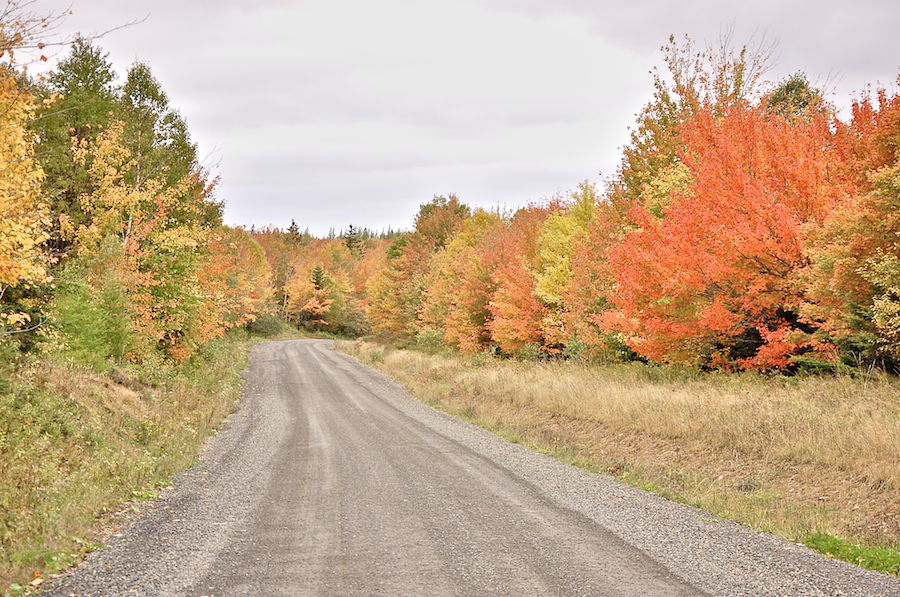 Friday, the opening day of the Celtic Colours International Festival, was not one of those "sunnier tomorrows" but it was nevertheless an improvement on the previous day. Although rain and mist were present in the morning, they were soon replaced by a "cloudy bright" sky with even a few very rare sunny breaks.
What a difference a week makes! When I had arrived a week ago in Cape Breton, I was struck by how little the leaves had changed, especially when compared with those in Eastern Maine. A drive through the back country this day showed that the leaves, seemingly to get ready for the festival, had switched to their multi-coloured fall hues. Alas, the sun wasn't there to really make the colours shine, but the photo above nevertheless captures their vividness and brilliance.
The many back roads in the Southwestern Inverness County area bounded by Whycocomagh, Judique, Port Hood, and Mabou always repay a drive, and at no time more than in the fall after the leaves have turned. The Upper Southwest Mabou Road leaves Highway 19 (at GPS 46°00.715'N 61°29.969'W) 2.6 km (1.6 mi) east of the blinking traffic light in Port Hood and runs southeasterly through Glencoe Station, home of John Allan Cameron, to its end just before Long Johns Bridge (at GPS 45°57.261'N 61°22.380'W), where the Rear Intervale¹ Road heads off to the southwest towards Judique. It is a lovely back-country drive with views of fields and forests and, at one point, mountains in the distance. The trees along the last half of the road are among those that invariably sport the most brilliant foliage in the fall, so I travel it as often as I can.
---
¹ This road is also known as the Judique Intervale Road. According to this web site, an intervale is "a lowlying tract of land along a river" and may validly be spelt as interval. The word is described as "Chiefly New England" and is pronounced as either [ˈɪn.tɚˌveɪl] (variant with 'e') or [ˌɪn.tɚ.vəl] (variant without 'e'). I've not encountered this word in the Northeastern United States, but it is certainly in considerable use in Cape Breton for both place names and road names. Chambers lists it and characterizes it as "U. S. dial.", so it's apparently not a standard British term, but a colonial one, perhaps carried by the Loyalists who fled to Nova Scotia from New England. Interestingly enough, the word is in fact a variant of interval; its interpretation as inter- + vale¹ is a folk etymology! The word is spelt both ways in Cape Breton, though intervale is the more frequently encountered spelling. Cape Bretoners of my generation say that it is properly spelt as interval and pronounce both variants as [ˌɪn.tɚ.vəl] without regard to the presence or absence of the 'e'.↩