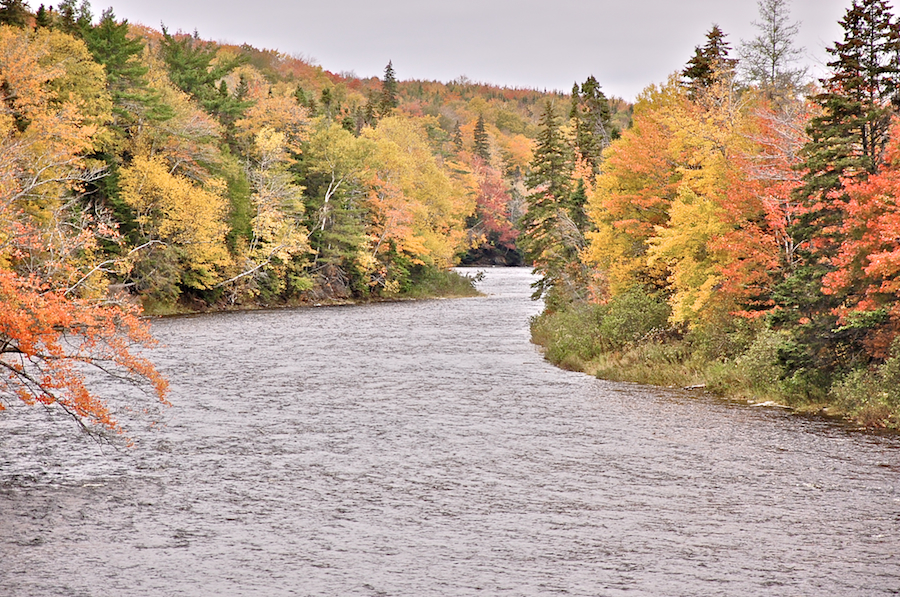 The Southwest Mabou River, which I have described at length here, is one of the most beautiful and picturesque in Cape Breton as well as being more accessible than many other streams of its length. The Railway Trail follows a part of its course from West Mabou Road to the canyon above the river a few minutes south of Highway 19; it is a trek I had made in whole or in part every previous year I had been in Cape Breton and one I had planned on doing again this fall, but alas was unable to fit in because of the continually poor weather.
The swollen Southwest Mabou River, seen here under steel grey skies, shows the large amount of water that had fallen in the first third of October. When I was here in mid-August, the river had so little water flowing that it looked like one could make one's way across it by jumping from one stone to the next without so much as getting one's feet wet. Not this day! Even with waders, one would have gotten soaked! The swift-moving waters were as high and as fast as I ever remember seeing them—this is normally a fairly tranquil river, even when a good amount of water is flowing. But on this day the waters were obviously in a hurry to make their way to the sea!
The lovely colours in the trees that line the banks of the river were especially fine downstream; upstream, the trees had changed, but their colours were considerably less striking, tending much more to the limes and pale yellow-greens—still pretty but not as alluring. I took way more photos of the view downstream than I did of the view upstream this time.