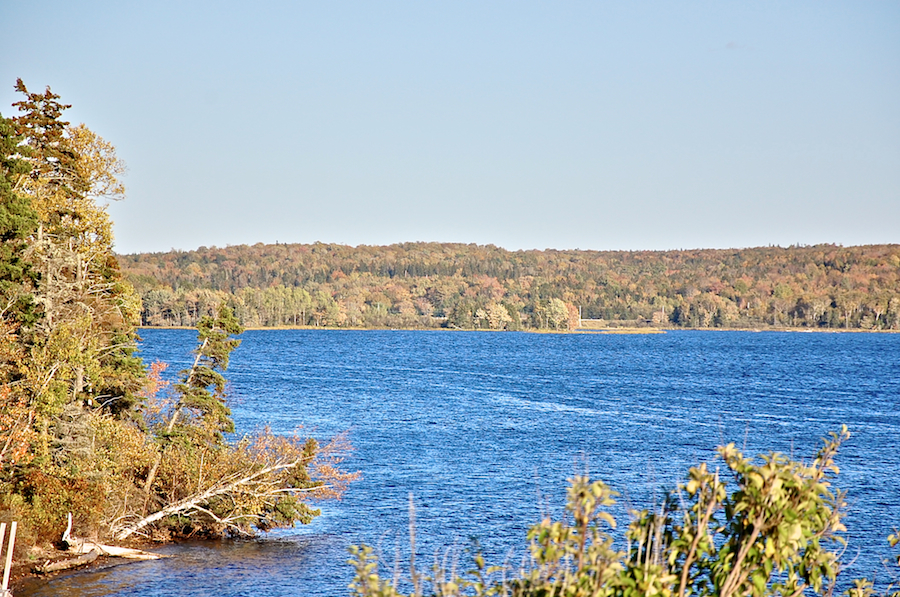 The sun was still out and the skies had considerably cleared (though note their still whitish tint in the photo above) by the time the afternoon concert's wonderful music had come to an end. I drove back towards Whycocomagh for the evening concert and, still full from the Thanksgiving Dinner in Mabou, stopped for a sandwich at the Herring Choker on Nyanza Bay south of Baddeck (and, truth to tell, for a selection of their scrumptious pastries to have in the car).
After the collation, I went back outside to the car and first noticed a glorious maple with bright yellow leaves against a beautiful blue sky at the side of the café. When I turned around after taking its picture, I saw this lovely view across Nyanza Bay, carved out by the mouth of the Baddeck River as it makes its way into the Bras d'Or Lake system between Wagmatcook and a small peninsula terminating in Morris Point. Thus, contrary to what one tends to think, the land seen here is not the vastly larger and higher Washabuck Peninsula across St Patricks Channel, but rather the small peninsula which, in this photo, blocks the view beyond. Other photos taken at the same time but looking further to the west show first the Washabuck Peninsula rising above the small peninsula and then a clear view of St Patricks Channel and the Washabuck Peninsula on the other side.
In this photo, too, the greens, yellows, and browns again dominate the scene; there are some oranges in the other views I took, but the leaves clearly still have a lot of changing to do yet. They are definitely not at their peak here.