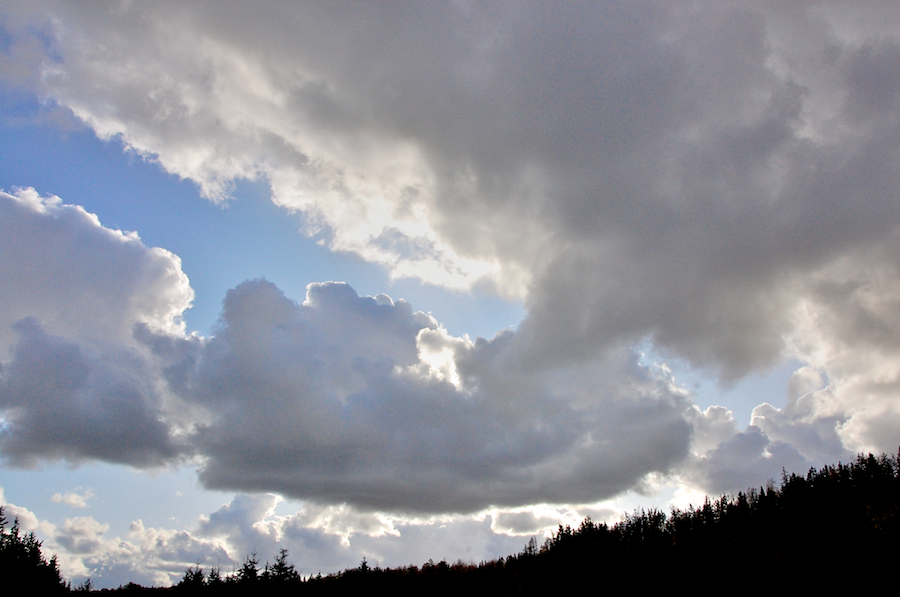 A great concert at Whycocomagh, followed by a great dance at Glencoe Mills, left me tired on Monday morning, Thanksgiving Day. Having seen the cloudy weather on Monday morning from my window at the Inn, I just slept in. In the afternoon, at the invitation of friends, I drove to Baddeck to share Thanksgiving Dinner with them.
Having spotted a very colourful hillside in West Lake Ainslie during the rain on Saturday as I drove to the evening concert in Wagmatcook, after dinner, I decided to return that way to have a second look. The sun was again attempting to break through heavy grey rain clouds, with some success—there were even small patches of blue sky for it to shine through. The remembered hillside was, however, left in the dark and I took no photos of it. On Meagher Road in the Hays River area, a stand of trees caught my eye that was quite bright in the sun, which, however, disappeared under the clouds as soon as I opened my car door. I took some photos, but none of them captured what I had seen in the sun.
Furious and out of patience with the poor photography weather, I then took photo #1. Shaking my fist at the sky, I yelled, "You better open up and shine down here, or I'm going to put this photo of you in the fall colours essay!" I soon had my answer: the clouds became even darker and swallowed up most of the blue spots very shortly thereafter, as photo #2 shows. So, I'm making good on my threat and present herewith the very frustrating skies of that afternoon! And remember that this is one of the "better" days!
Giving up, I drove on towards Brook Village and, of course, not long after I had left, the sun lit up tantalizing areas of the hillsides through which I was passing, but so briefly that it was useless to try to photograph them. Trying to control my impatience in the hopes of getting a few good photos, beyond Brook Village I continued out the Old Mull River Road, turning onto Worths Road and driving down to the small green bridge across the Mull River there (at GPS 46°02.698'N 61°20.265'W)—unlike some past years, the road was in quite good shape this fall. The sun did come out a bit while I was there, but, given the lie of the land and the hour, the light was not right for the trees that were in colour along the river, although a few turned out better than I had expected. A number of the trees there and in a field north of the river were just beginning the process of changing from green to reds, yellows, and oranges; their variegated leaves were quite pretty, even without the benefit of proper sunlight.