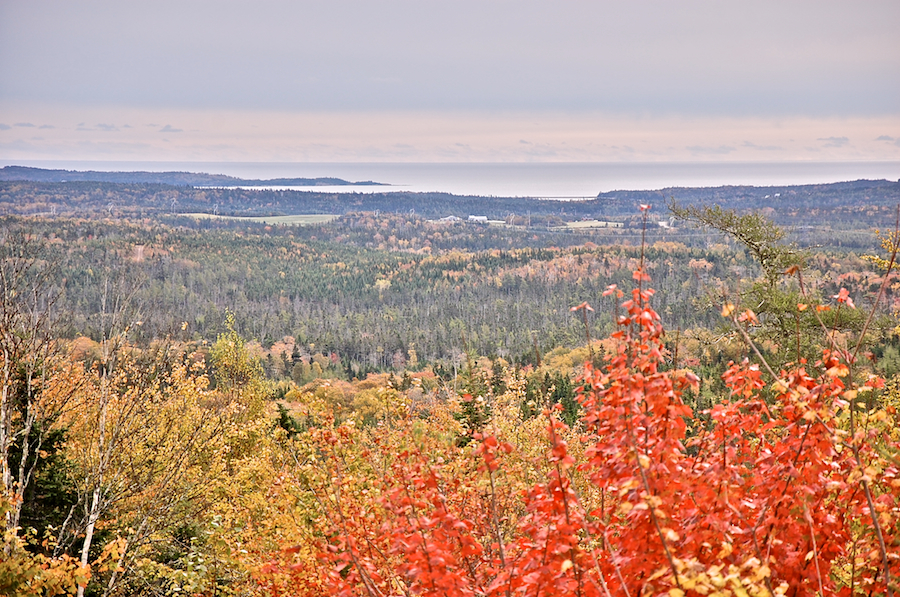 Tuesday morning was a windy, cold, and overcast day with only bits of colour in the sky showing where the sun was hiding. Since I needed to be in L'Ardoise at 13h for an afternoon cèilidh and lobster dinner, I left right after a late breakfast at the Inn—the fine dance at Brook Village after the Judique concert meant I didn't get to bed until after 1h30 Monday night. From Port Hawkesbury, I took Highway 4, but found only one location with really remarkable colours (at least under an overcast sky) and was past it with no good place to pull over before I decided I should have. At River Bourgeois, I drove the Grand Gully Road without finding any better colours and, as I still had lots of time to spare, I decided to see where the road north from Exit 47 off Highway 104 led—the intriguing sign said it went to Sporting Mountain and I had never before been in that Richmond County area.
The road was in excellent shape and led off through the forest first to the northwest and then due north, arriving at Seaview. There, it turns to the northeast and continues on to Oban and, at least according to maps, ends at Roberta on the shores of the Bras d'Or Lake. Before arriving at Oban, I noticed the bright red tree in the foreground of the photo above and stopped to get a picture of it and the scene beyond and below it. Beautiful as that scene is, it is still the splendid red tree, positively beaming brightly even without the benefit of sun, that continues to catch my eye in this photo.
I am embarrassed to say I did not note the compass reading of this photo; I wish I had done so as I am not at all sure of what I am looking at here. From this point, one could potentially see the Bras d'Or Lake to the northeast, St Peters Inlet to the east, or St Peters Bay to the southeast. Looking at the maps available to me, what I see in the scene above best matches the coast of the Bras d'Or Lake at and to the west of Cape George, but that coast is not a very good fit for the scene. I will certainly return here on a better day armed with maps and a compass and figure out what it is one actually is seeing here. In any case, the views are fine enough to merit a second visit and I would like to explore the rest of the road and other roads in the area—I ran out of time at Oban and turned southeast from there back to St Peters and on to L'Ardoise.
[2012] On 2010 June 23, I drove as far northeast as I could on Morrison Road and had to turn around at GPS 45°44.308'N 60°53.625'W; although my nüvi® shows that the road continues on past where a trailer is located, my more reliable Prius GPS shows no such continuation. I suspect that there was once a road there, but it appears to have been abandoned. There was a nice view of the Bras d'Or Lake just before I turned around, but I took no photos as the weather wasn't adequate for photos. On 2010 August 16, I returned to the location from which this photo was taken; the views from here are to the southeast and one is therefore looking at St Peters Bay. The promontory left of centre is apparently in the Grande-Grève area, southeast of St Peter's, while the area at the right of the photo would be in the River Tillard and River Bourgeois area, west of St Peters. In general, I have had poor luck with photos here; one of these days I'm going to get some good views!