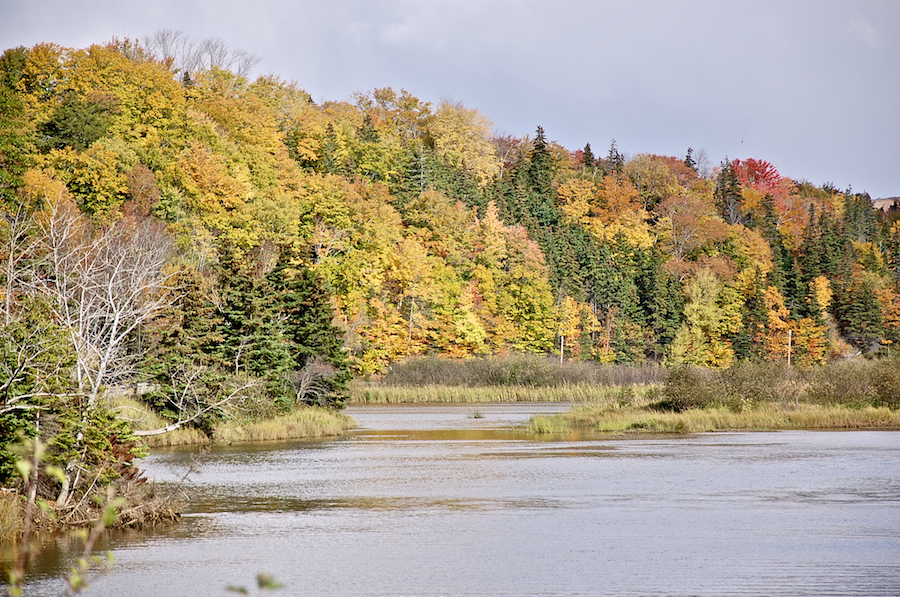 From the Beaton Road, I drove out the Mull River Road, where I got some good photos of the colours, but the sun was in and out and it required a considerable amount of patience. There are always lovely yellow trees at the southern end of the Mull River Road where it joins the Southwest Ridge to Glencoe Mills Road, but the fickle sun didn't allow me to capture them in their full glory. Beyond, along the Old Mull River Road (also known as the Brook Village Road), I did get a couple of blue sky photos and photos of some gorgeous reds in their full glory under a bright sun, so, all in all, I had a very good morning!
After lunch with friends, there was still some sun in the sky, though the earlier patches of blue sky had by then almost completely disappeared. Accordingly, I drove down Highway 252 along the Mabou River where I hoped to get some shots of the stunning leaves always on display there in the fall. The photo above is one of those I took there and one of only three in which the sun is shining directly on the trees. Again, one can see that some of the leaves are unchanged and others are still partly green, though the majority have changed. The reds are in shorter supply than usual here, though there is one fine red tree at the far right of the photo; more reds were to appear later, but, alas, not under bright sun, so this photo will have to serve for this year.
In the opposite direction from this photo, along both banks of the Mabou River looking to the southwest, the colours were far more muted, with the greens outnumbering the trees which had changed colour. The grasses in the delta were half green and half yellow/brown; it would have been glorious under the sun, which declined to cast any of its rays in that direction while I was there, so I drove on towards Smithville.