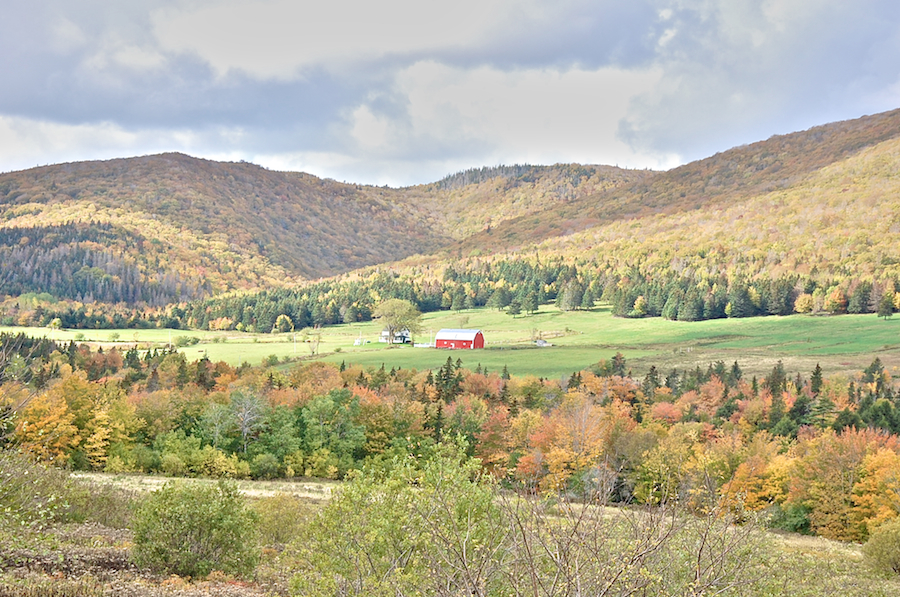 The views from the Smithville Road of the Cape Mabou Highlands in their fall colours are normally impossible to beat, but this day I took few (two of Mabou Mountain as a cloud of mist enveloped it and two others of trees). On the Blackstone Road, however, I ran into the sun again, and got a couple of decent photos of the leaves on the nearby hills (but not the Cape Mabou Highlands) in the sun, with numerous reds in evidence and even a patch of blue sky showing.
From there, I drove back towards Mabou on the Cèilidh Trail; the sun was gone again, but, as I reached the Northeast Mabou Road, out it popped once more. I turned down that road and it quickly disappeared, though patches of sunlight appeared ever so briefly here and there over the beautiful Highlands as I watched, frustrated that the sun was so confoundedly capricious. With a great deal of patience, I was able to get a half dozen fairly good shots of one of the most beautiful places on earth, of which the above is the best. This photo again reveals a lot of greens beyond the evergreens mixed in with the changed trees across the highlands above the barn, though those in the foreground, out of the sunlight, show rather more colour.
I continued on down the road and stopped at the bridge over the Northeast Mabou River, but found mostly muted colours there. A drive up MacDonalds Glen Road didn't produce much better results, not because the colours were poor, but because the sun was again missing in action. By then, it was time to have supper and get ready for the evening's concert, again at the Strathspey Place.