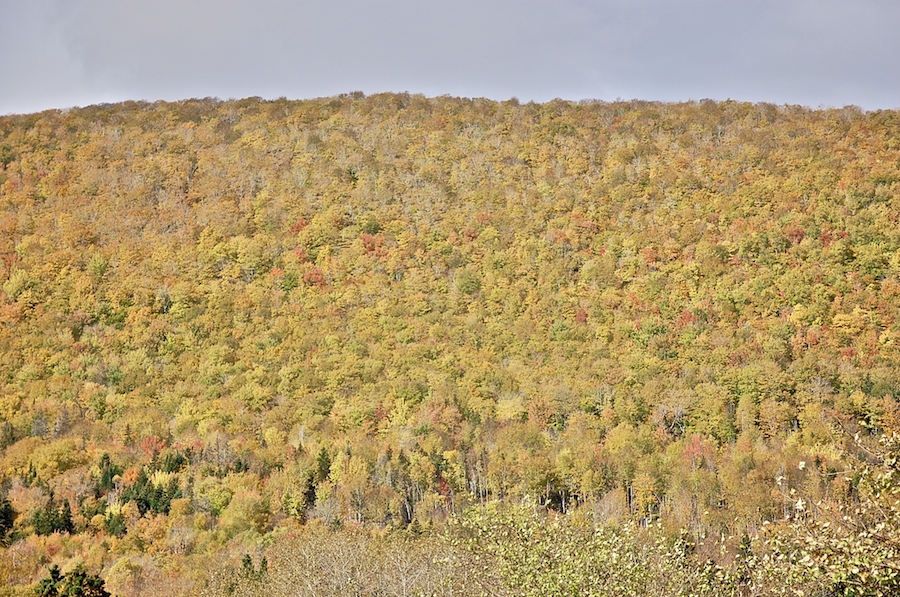 Photo #1 is a telephoto close-up of the mountain at and well beyond the far right of the previous photo. It better shows the state of the colours of the trees; even at this distance and under this well-filtered sunlight, the reds can be seen strewn across the mountainside. It also shows a little better than the previous wide-angled view the number of bare trees, especially near the top. It's a good illustration of how each individual tree's colours are individual and distinct yet blend together to form a harmious whole.
Photo #2 was taken 500 m (0.3 mi) before photo #1, from a hill before descending into Marsh Brook Valley; the hillside shown here is on the opposite side of the Marsh Brook Valley from the mountain seen in photo #1. Notice the snow still on the road in the shade—down in the valley, the roads were still wet, but the snow had melted. There were some pretty trees on both sides of the road here; unfortunately, many were in the shade and didn't get the sun they deserved. One brilliant red tree, a major reason I stopped here, is unfortunately just to the right of this view.
Two minutes after taking the photo above, the light suddenly disappeared; turning around, I saw the sky again filled with huge grey clouds. It was getting on for time for the cèilidh to celebrate the posthumous release of Jerry Holland's CD, Helping Hands, on which John Doyle is the accompanist, at the Inverness County Centre for the Arts, so, given the two lucky encounters with the sun I had had this morning, I called myself content and drove off.
That cèilidh was a marvellous afternoon of music with many fine players. The excellent concert at Terre-Noire in the evening continued the afternoon's great music. At the end of that concert, an advisory announcement was made that it had been snowing and that the roads leading north towards Chéticamp were in very slippery shape, while those leading south, the direction I was going, were in somewhat better shape. I found well over 5 cm (2 in) of snow on the top of my car when I got outside and the roads were slushy until I reached Chimney Corner. I continued on to the dance at Glencoe Mills, where Troy MacGillivray and Andrea Beaton, with Allan Dewar on piano, were drivin' 'er when I got there late. What a day of music! But what weather, too! The festival had only two more days to go and there hadn't really been a completely decent day since I arrived in Cape Breton.