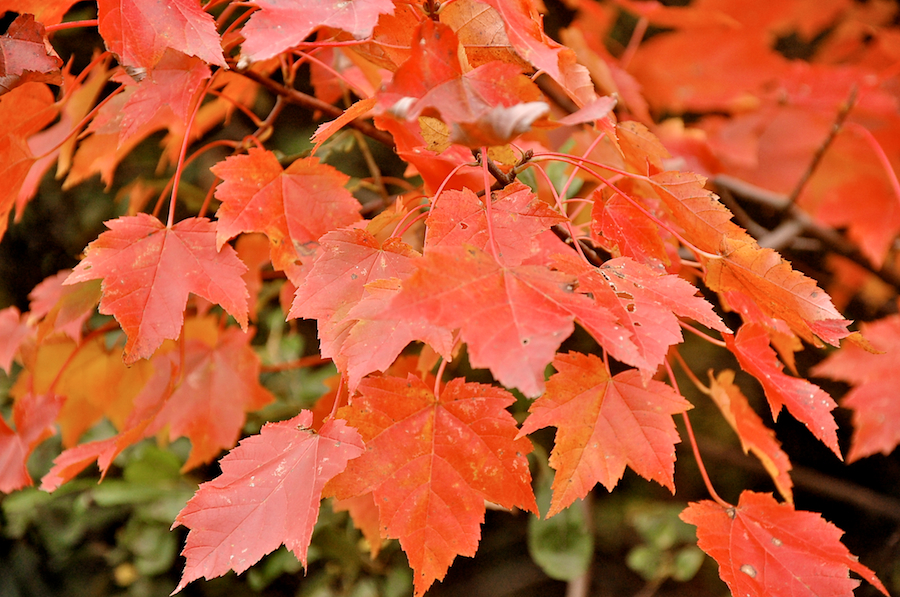 I have saved this final page for views of the gorgeous red colours that so bring joy to the observer's heart. These colours, which this year were especially fine and unusually widespread, have not featured in many of this essay's photos due to the lack of the sun needed to bring them out when viewed at a distance. I have therefore gathered here four close-up views that show how truly magnificent the colours were this year, even though there was usually little sun in which to view them. While it is true that they would be set off even better by an overarching bright blue sky, this was definitely not a year for that! As it is, I consider myself very fortunate to have gotten these, which will have to stand for the few others like them in my collection.
Photo #1 displays the beautiful red leaves seen on a tree at the side of Glencoe Road not far from where the eagle was previously seen dining and on the same day. Even though bereft of direct sunlight when this photo was taken, the camera nevertheless captured perfectly the vibrant colours of the leaves. Notice how there are still faint residues of the green chlorophyll interspersed with the reds—those mostly disappeared greens subtly highlight the reds and contribute to the overall beauty of the whole. How fitting that a red maple leaf like those seen here has been chosen as Canada's national emblem!
I was very lucky to have caught the lovely leaves in photo #2 in a short burst of direct sunlight; they were on one of several beautiful trees of various colours in a stand along the Old Mull River Road (also known as the Brook Village Road) a bit south of Miramichi. Unlike the leaves seen in photo #1, these leaves seem to be tinged with gold as well as green. At full magnification, the original does show some yellow-coloured leaves interspersed with the red ones, possibly on a distinct tree behind the one in front or possibly on the same tree—I cannot tell for sure; it also shows the same tinges of mostly disappeared chlorophyll in many of the red leaves. In any case, I found this tree positively glowing in the sun to be an object of great beauty!
[continued below]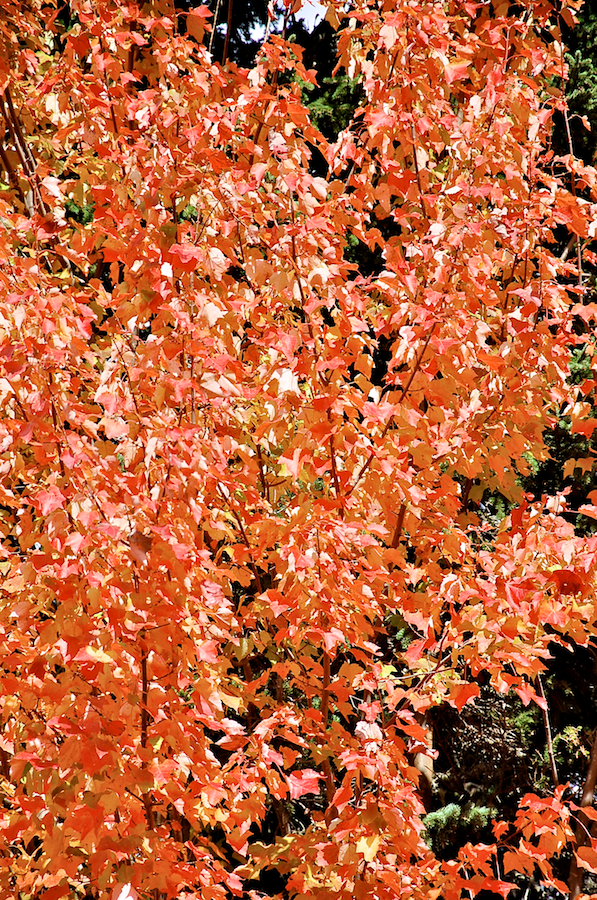 Taken on another day, the tree in photo #3 was one of several bordering a curve on the Mull River Road (along the base of the southeastern flank of Southwest Ridge across the Mull River from the Old Mull River Road) about halfway between Worths Road and the MacFarlane Woods Trail (I regret that I failed, in this instance, to record the precise distance from either) that I caught in the morning sunlight whilst the sun was yet again popping in and out of the clouds. At high magnification, the original definitely shows many yellow leaves intermixed with the reds, but, as best as I can tell, they are all maple leaves and appear to be from the same tree. Moreover, a goodly number of the leaves are multicoloured: some are mainly red tinged with yellow spots, some are half red and half yellow, and others are mainly yellow with some red spots. The overall effect in this light, however, is of red, not red-orange or orange, rather like a fine piece of jewelry made from rubies strewn across a field of gold.
On previous drives along the Old Mull River Road, I had noticed towards its southern end a number of gorgeous trees in relatively close proximity. Not only were there reds, but also yellows, oranges, and limes as well, blending with the evergreens into a beautiful grande allée. That day, as the sun popped out from under the clouds and back in again in the space of seconds, I was delighted to get the beautiful red leaves seen in direct sunlight in photo #4. In this photo, if one looks carefully, one can again see the mottled yellow and red pattern some of the leaves display as well as some still with their chlorphyll only moderately changed from the summer's greens. Another beautiful tree indeed!
So, in spite of the generally awful light prevailing during this festival, let it not be said that the colours were not vivid: these four photos attest to how false a statement that would be. And, while these four were all relatively close by, there were equally vibrant reds—and yellows and limes and oranges and purples—everywhere on Cape Breton that I travelled, though, alas, I saw very few of them in as good light as those shown here.
I ended up staying one additional day, but the weather that Monday continued unrelentingly grey when it wasn't raining or misting. Tuesday morning, with rain in the forecast and mist in the air, I decided to give up, end my stay, and start home, even though, unlike many years, the leaves were still on the trees and either at, or not far beyond, their peak. While, from the point of view of the photos I got, I do not deem this trip a success, from every other point of view it was, as always, a great time. I am already looking forward to next year's festival, hoping, not for the extraördinary weather of 2006 with its ten nearly perfect sunny days with blue skies (though that would certainly be delightful!), but for enough sunny days to better show off the beauties of this incredibly gorgeous Island. If you are able to make it there next year, by all means say hello!
Now, with the photos on this page, like my stay in Cape Breton, this essay has reached its end. I hope you have enjoyed the photos I've presented, in spite of their generally poor lighting, and that you have perhaps seen a place or two that you have not previously encountered on your travels.