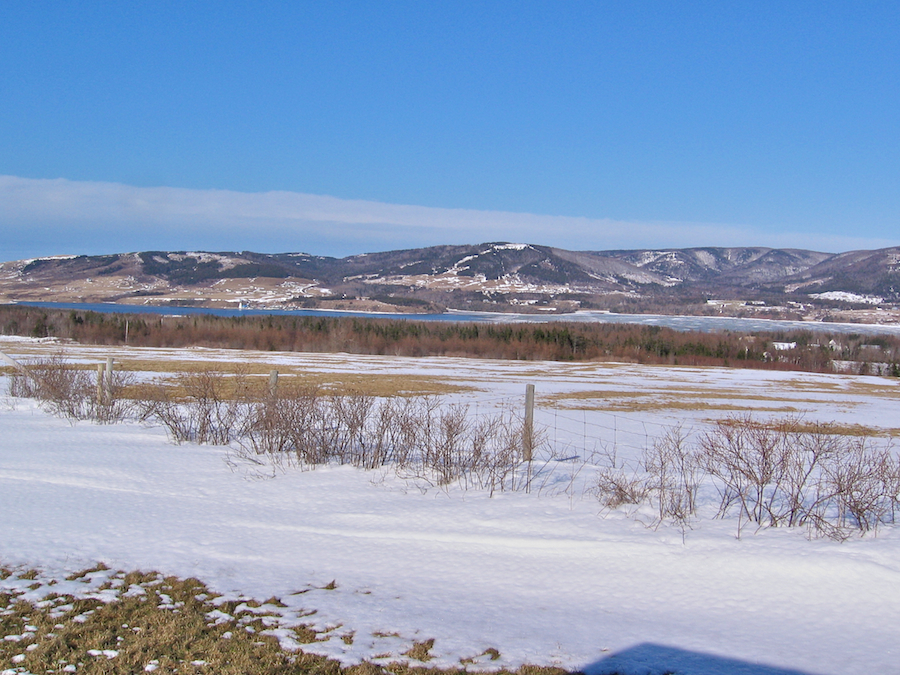 This view is to the left (west) of the previous one and shows the gorgeous panorama formed by the slopes of the Cape Mabou Highlands as they descend to the shores of the Mabou River.
At the far left, the summit of Mabou Harbour Mountain slopes down to Green Point on the Gulf of St Lawrence (Northumberland Strait). About a quarter of the way to the right from the left edge of the photo, Mabou Harbour Lighthouse rises beside the open waters of the Mabou River reflecting the cerulean skes above — no ice cover here in the lower portion of its course — but the open water continues only halfway across the photo, where an ice sheet still covers the remainder of its upriver course. Above the lighthouse, one can see the houses of the residents of Mabou Harbour Mouth. With the exception of Mabou Harbour Mountain, I know of no names for the other prominences visible here (which, in any case, are not really mountains, but simply the edges of the great multi-fissured plateau that forms the Cape Mabou Highlands).
Unlike the much darker Mabou Mountain in the previous photo, the always arresting "amphitheatre" at the right of this photo shows considerable amounts of snow across and along both its upper and lower slopes. The curved band of white on the prominence in the centre of the photo is snow lying atop an open field, but there are no open fields on the sides of the amphitheatre, which are completely covered in greens in summer. This marked difference in colouration is just another feature I could never have imagined on my own.
Another aspect of this photo I find very interesting is the distribution of the snow cover. I would never have expected to find as many browns and tans as are on view here and in the previous photo. While it would not have surprised me to see the barer slopes of Mabou Harbour Mountain next to the Mabou River, it does seem odd to me that there is so little snow higher up; likewise, I find it rather remarkable that the less elevated, but still relatively high, fields of West Mabou in the foreground have so many bare spots, where I'd have imagined a deeper (or at least uniform) snow pack. I suspect that the strong winds off the Gulf must play a rôle in keeping these areas clearer of snow, again something I could never have pictured on my own.