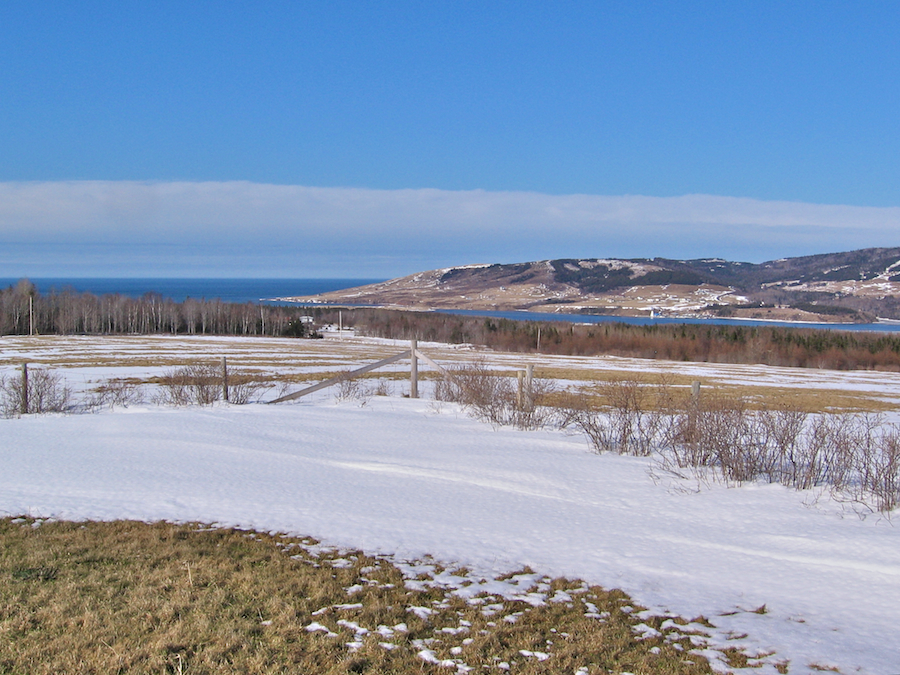 This view, to the west of north, shows the Gulf of St Lawrence (Northumberland Strait) at the far left. The mouth of the Mabou River enters the Gulf to the left of Green Point in the middle left of the photo. Mabou Harbour Mountain rises right of centre and the Mabou Harbour Lighthouse is again visible about a third of the way in from the right of the photo. The Cape Mabou Highlands continue northward in the far distance and eastward along the Mabou River at the far right.
The very interesting bank of white clouds that spans the entire photo makes me wish I had a better grasp of meteorology than I do: in spite of having read Bill Danielson's most interesting Cape Breton Weather Watching for the naturally curious,¹ my mind simply fails to retain all the details he explains so clearly in the text. In this case, I'd guess that this cloud formation is likely an uplifted fog bank, since it sits over the Gulf parallel to the coast line along its length. Whatever its cause, it doesn't seem to affect the beautiful colours of the skies reflected in the waters below.
And what pristine azure blues they are in both sky and water! This day was beyond gorgeous! Kudos to the photographer who took the time and effort to venture forth to this superb vantage point and to preserve the serene and majestic glory of this scene and day! It is certainly one worth remembering and revisiting, which we can now do thanks to his fine work in capturing this spectacular panorama in this marvellous set of three views from east to west!
---
¹ Cape Breton University Press, Sydney, 2007 [ISBN-13: 978-1-897009-13-0; ISBN-10: 1-897009-13-5].↩