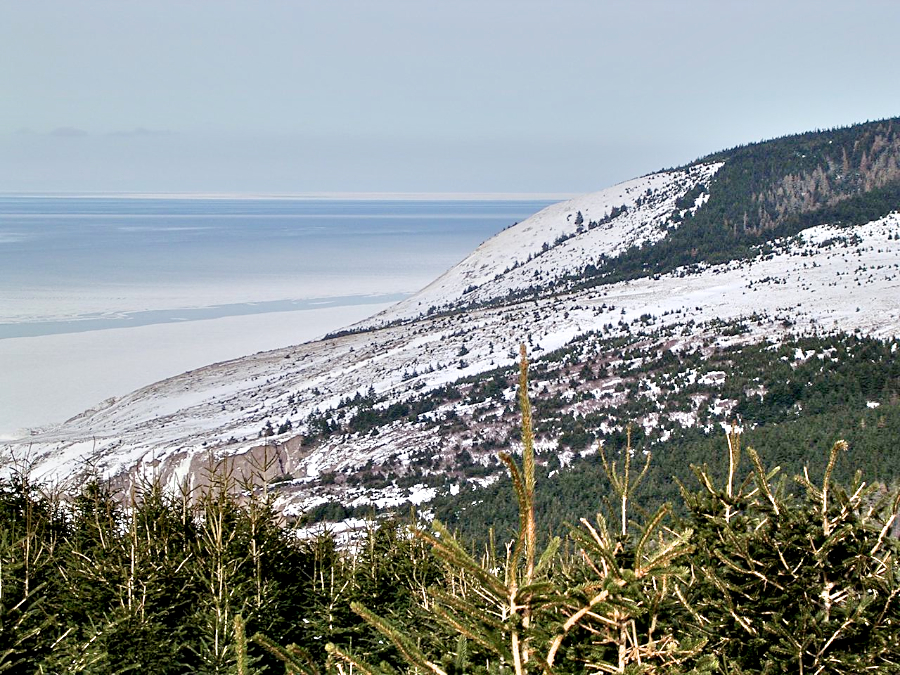 Anyone who has been privileged to see the spectacular Cape Mabou coast from Mabou Coal Mines to Green Point from the Gulf of St Lawrence (Northumberland Strait) is very likely to remember the four points one passes on that beautiful voyage: Finlay Point, which protects the fishing fleet's port; Coal Mine Point, which marks the end of the beach at Mabou Coal Mines; Beaton Point, seen at the right of this photo, which forms the northern end of a very pretty semi-circular walled cove closed on the south by Green Point; and Green Point at the mouth of the Mabou River. If you haven't been so lucky, you can still see these four points if you venture out the Colindale Road until you arrive at the guardrails (at GPS 46°03.994'N 61°30.297'W), as in this summer photo; this location's stunning views, which includes the West Mabou Beach Provincial Park and the southern end of Cape Mabou as a bonus, make it one of my all-time favourite spots in Cape Breton and you will often find me there gazing raptly at its incredible beauty and serenity.
The contrast between this photo of Beaton Point, with its whites and browns and tans and dark greens, and the Beaton Point in the afore-referenced summer photo clad in brilliant greens is very stark indeed. I could never have imagined what I see in this winter photo, since I know it so well in its summer colours.
At the far right of the photo in the upper corner, one can see the shadows of what to my eyes look like dead white spruce trees, killed off by the spruce bark beetles that attack mature white spruce. Great swathes of dead white spruce trees have been very noticeable in many areas of Cape Breton these past few summers, but they are far more subtle in the winter views in this essay.
The brilliant blue skies of the previous photo, taken not that far away on the same day, are gone here, replaced with greyish-blue-white skies that clash with the brilliant whites of the snow on the slopes of Beaton Point and of the ice below it. Yet there is the same apparent movement in the lines across the Gulf and evidence of a much more substantial ice cover beyond the furthest edge of blue. What a fine time to be out enjoying the marvellous beauty of this scene and terrain!