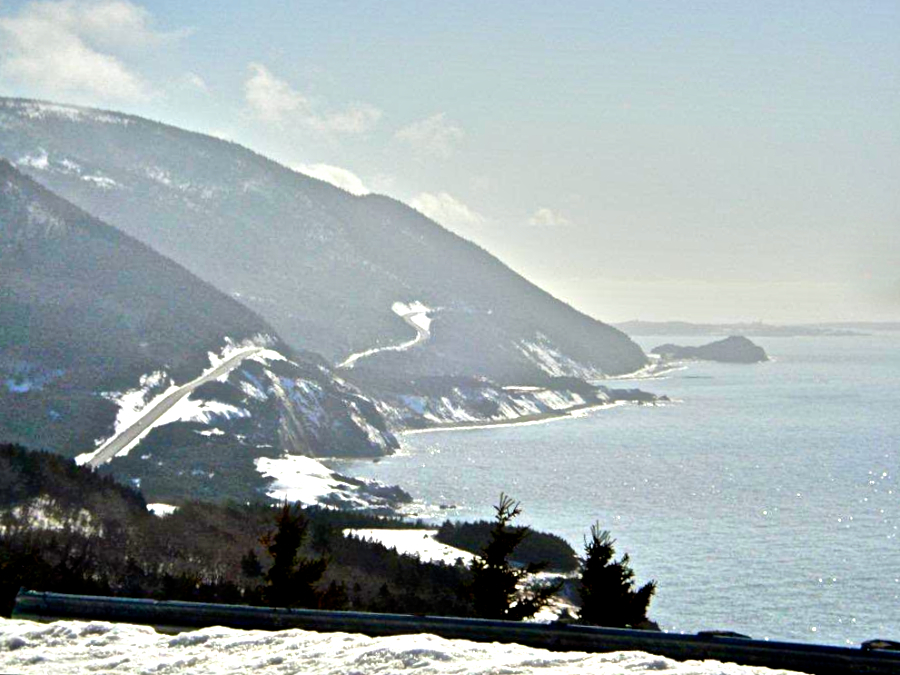 This photo is perhaps the best-well known symbol of Cape Breton Island: taken from the Cabot Trail look-off on French Mountain, where the Veterans Monument most fittingly dedicates the "beauty of this place" to "the memory of Canadians who died overseas in the service of their country and so preserved our heritage", it shows the Cabot Trail winding along the flanks of French Mountain and Jerome Mountain, passing Cap Rouge, Corney Brook, and continuing on to Presqu'Île (the peninsula at the middle right of the photo beyond Jerome Mountain). The spire of the Église St-Pierre in Chéticamp can just barely be seen on the horizon about a fifth of the way in from the right of the photo; Chéticamp Harbour lies behind Caveau Point and in front of Chéticamp Island at the far right.
Although this view is a very common one, I have never before seen it shown in its winter colours. While it is certainly not unusual to find haze here in summer and fall, I admit to being a bit surprised to find so much moisture in the air on what is obviously a sparkling, bright, blue winter day — notice the sun reflecting on the water — and, while there is clearly snow here, there is far less visible than I would have imagined: much of it must be hidden by the tree cover. The lack of coastal ice is certainly not peculiar to this location either — compared to most years, very little ice formed on the Gulf of St Lawrence in the winter of 2009-2010, which set a record for warm temperatures in the northern parts of North America and Greenland: see these interesting maps, and especially February's, for the unusually warm temperatures south of Hudsons Bay and north of the Gulf of St Lawrence. In other years, with normal coastal ice, this scene would certainly appear very different.
In the fall, this area is often very colourful: while there are major stands of evergreens, particularly on both sides of where the Cabot Trail climbs up from Cap Rouge (the patch of white snow in the centre foreground of the photo below and beyond the guardrails marks the parking lot for the Cap Rouge exposition area and look-off) over the protruding flank of French Mountain that falls precipitously in dark cliffs to the shore below and down to Corney Brook on the other side, the majority of the trees along this part of the Cabot Trail are deciduous and, under a bright sun, present a spectacular autumnal rainbow of colours.