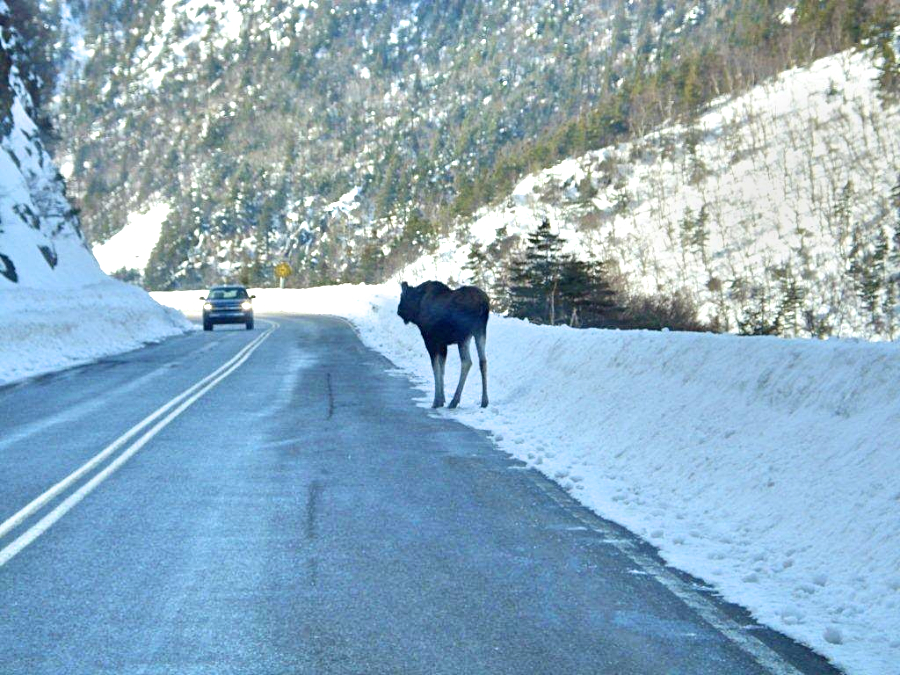 This, too, is a pretty common scene in spring, summer, and fall: a moose in the Cabot Trail as one descends beyond the Skyline Trail entrance at the summit of French Mountain on the way to Chéticamp. It is very scary indeed when a huge bull moose suddenly steps out from the woods and walks directly in front of your car, even when travelling slowly in second gear below the posted speed limit! I've had several closer encounters than I would have liked in this area and you are indeed well-advised to use caution here and anywhere else moose frequent.
This is, though, the first time I've seen this young a moose at this point on the Cabot Trail and, for sure, I have never seen one in snow that is pushed against the guardrails on the right and the cliff sides at the left to form the narrow roadway here shared by man, beast, and machine. This photo was taken perhaps 5 km (3.1 mi) away from the look-off at which the previous photo was taken, but it is considerably higher and further inland from the coast; the amount of snow visible appears to be significantly greater here than was seen along the coastal slopes.
The aptly-named Skyline Trail offers a fine, mostly level, walk on a very well-maintained trail bed, punctuated with wooden foot bridges and boardwalks over wet areas, along the bare rocky ridge which one accesses near the top of the mountain slope seen in the centre of the photo above. The trail ends at the shore on a headland overlooking a long stretch of the west coast of Inverness County (on a clear day, one can see Margaree Island superimposed on the even further south Sight Point in the Cape Mabou Highlands) and, immediately below one's feet, the Cabot Trail winding up French Mountain; the views from the cunningly camouflaged viewing decks (I can never make them out from the Cabot Trail down below, even though people can be seen against the sky standing on them) are stunning and, in summer, you are very likely to see whales feeding in the waters below, moose browsing or just resting in the shade not far off the trail, and bald eagles soaring and frolicking in the skies above. Depending on how fast you walk, it will take you from forty minutes to an hour one way, but it will be one of the most memorable walks you have ever taken.