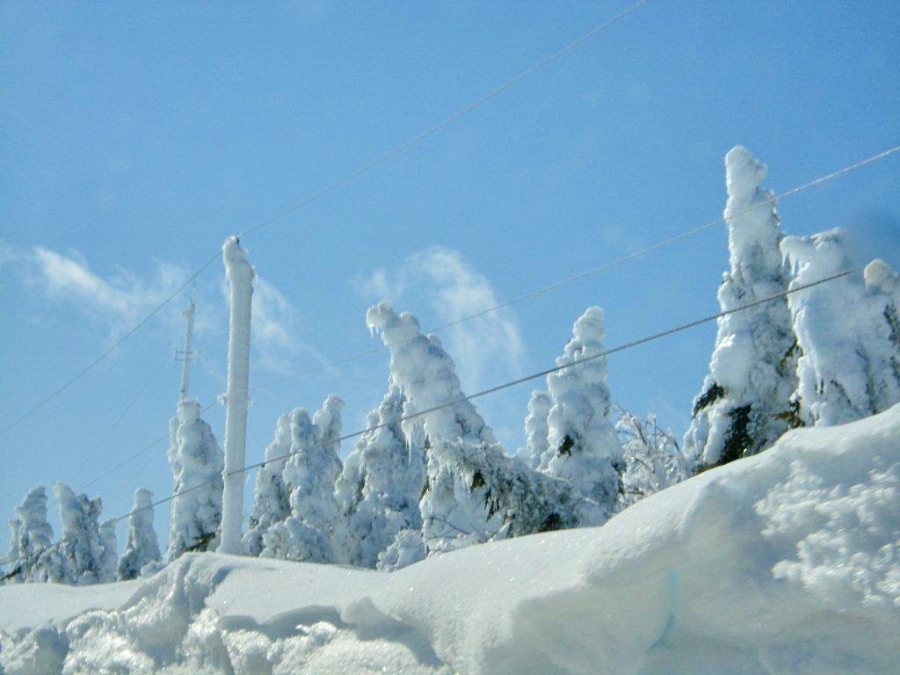 This photo, taken near the previous one, shows just how heavy the coating of ice and snow must be: the tree in the middle is seriously atilt and, if one looks closely at the top of the tree at the far right of the photo, one can see icicles hanging down, evidence either of a melt and refreeze or of freezing rain. Icicles are also hanging down off the slanted tree as well.
To the left of the thick pole, one can see a metallic structure sticking up above the top of the tree; the photographer says that this is "a weather station of some sort". It is clearly not the web cam on French Mountain, which has neither utility wires crossing by it nor the same disposition of components, though I can't think of where a weather station is to be found on MacKenzies Mountain.
By considering where the photographer most likely held his camera, one can get a pretty good idea of just how high the snow banks along the Cabot Trail are here; particularly at the far right, they were likely at or above his head. The lower telephone wire is also a fairly good clue as to the height of the snow.
What interesting shapes these trees have! The one beneath the weather station looks to my eyes like a parent whose arms are holding a child; I see an Easter bunny to the right of the thick white pole; could that be a blue jay at the far left of the photo? What fantastic creations of snow, ice, sun, and chance! And what a fine photograph!