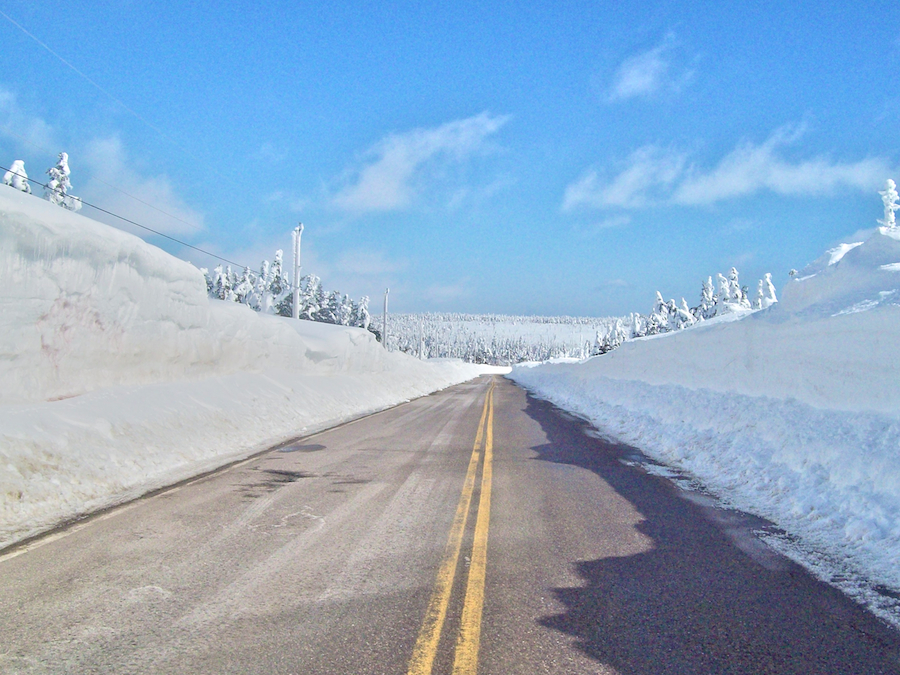 Taken on the day after the previous photo and by a different photographer, photo #1 shows that the marvellous weather continued! What a sparklingly bright and beautiful day this was!
The Cabot Trail here ascends towards the summit as it crosses North Mountain on its way to Pleasant Bay. In years past, I have seen stories in the press (and post cards on sale in gift shops) showing that this section of the road has sometimes been closed in the winter due to high snow cover, very difficult for the road crews to deal with since there is often no good location to which to displace the snow. This year, that appears to have not been so much the case, but there is still a considerable amount of snow showing along both sides of the road and one can see that it could quickly become a problem were there to be a major snowfall, especially a wind-driven one that could quickly fill the roadbed with deep drifts.
As photo #2 illustrates very well, the snow banks here are already a good deal higher than a vehicle!
As with the previous photos demonstrating similar shapes, I find both of these photos quite interesting for the way the snow has girded the trees with mantles of white: when I first saw them, I thought the trees in photo #2 were instead fantastic snowmen some playful person had made for the amusement of passers by, but the photographer assures me that the shapes are purely the result of natural phenomena. A considerable amount of water (or perhaps ice or freezing rain) must surely be responsible for aggregating the snow masses in this way and not allowing them to be blown off the trees by the often very strong winds of this area. Whatever may have produced them, these fantastic shapes are yet again something I'd not have been able to imagine on my own.