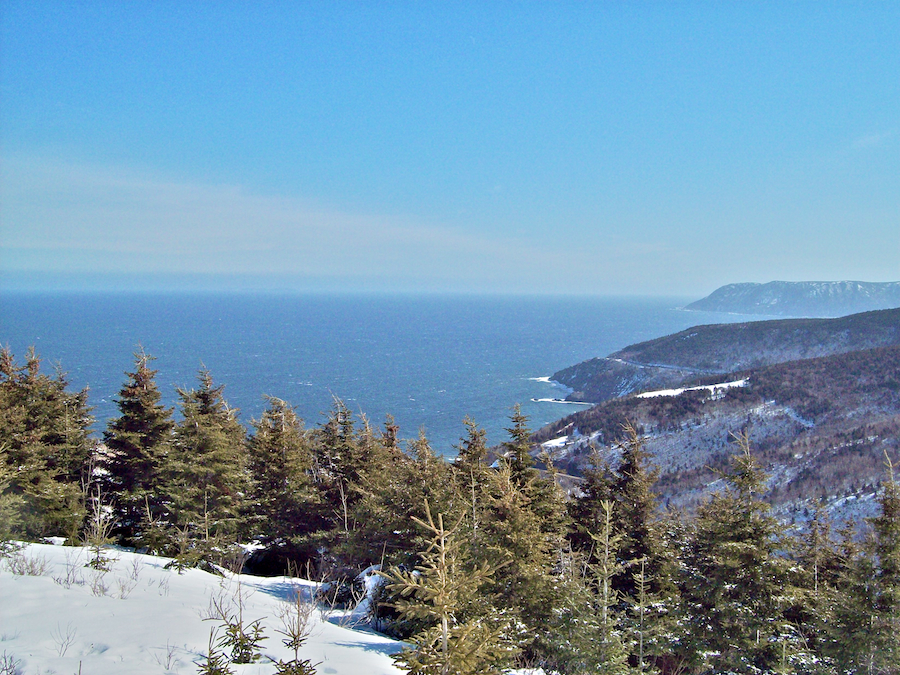 Colin Mudle's trail map shows the Meat Cove Look-Off Trail, which I have not yet hiked, turning off from the main Lowland Cove Trail (which starts at the end of the Meat Cove Road above the Meat Cove Campground), somewhat past the wooden cattle gate that I remember very well. His description reads: "This 0.5 km [0.3 mi] side trail is located 1 km [0.6 mi] from the campgrounds after a steep climb on a sharp corner where the road crosses a brook. As of July [2009] it was clearly marked with a sign, the trail appears new and is clearly marked with flagging tape, as the trail is so new follow the flagging tape or you will easily lose the trail. The trail rises [46 m] 150 ft from its start to a stunning view of the valley and Meat Cove."
The beautiful view in photo #1 is to the north of east from the Meat Cove Look-Off and shows the Bay St Lawrence shoreline. The Meat Cove Road can be seen winding around Black Point (right of centre) well above the shore line; at Black Point, the shore turns sharply to the southeast and continues on to Capstick, where it veers to the east and then southeast again to reach St Margaret Village, outside the scope of this photo. At the far right in the far distance, the Cape North massif runs to its end at Cape North, the headland sticking out at the base of the massif. This day, a fog bank out over the Cabot Strait precludes one from seeing St Paul Island, a not unusual state of affairs, even in the summer: it was only after several visits to the area that I first saw St Paul Island from the Meat Cove Road.
The view in photo #2 was taken in the previous winter and shows much the same scene, though from the near the Lowland Cove Trail behind what I am told is locally known as the blueberry field about five minutes walk beyond the Meat Cove Look-Off Trail start. A year ago, Bay St Lawrence was ice covered — as can be seen here, there were no open waters as in the photo at the top of this page!
[2012] I have since hiked to the Meat Cove Look-Off; alas, the day had somewhat hazy views and the sun was often hiding, but there is no question this is one beautiful spot! The views, both distant and close by (especially of Meat Cove Mountain across the valley), are stunning.