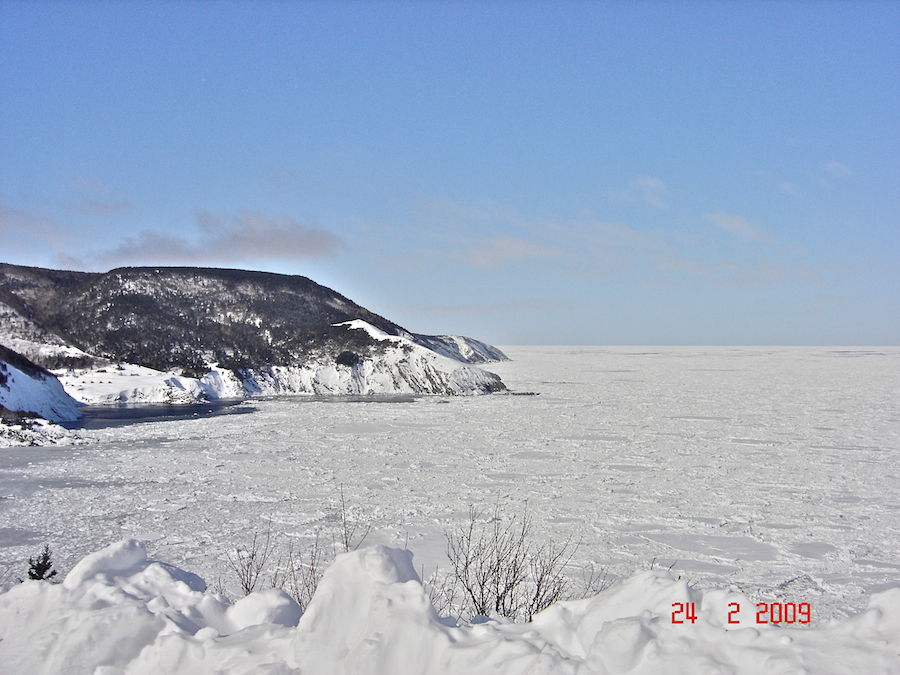 This 2009 view to the north of west was taken from the Meat Cove Road at Black Point. At the left of the photo, the field of snow one sees is the Meat Cove Campground perched well above the frozen waters of Bay St Lawrence. Above it and extending to its right, here surmounted with a grey halo, is Bear Hill. The nearer point is Blackrock Point, also shrouded in white; the snow-covered slope ascending from the point climbs to a vantage point known as Little Grassy, in summer a green escarpment to which a local hiking trail leads. The further point is part of Cape St Lawrence, also showing a considerable amount of white. The cove between Black Point and Blackrock Point is Meat Cove (the water) and beyond lies the equally ice-covered Gulf of St Lawrence.
This scene is one which has long fascinated me on my visits; I always stop here for photos. Having grown up along the St Lawrence River in northern New York State, Cape St Lawrence to me marks the end of the river's great estuary, according to this Wikipedia article, the largest in the world, and the start of the Cabot Strait, which takes its outflow on out into the Atlantic Ocean.¹
Seeing this scene and the Gulf of St Lawrence beyond clad in its winter colours is an especial treat; how different it looks!
---
¹ According to the referenced Wikipedia article, the International Hydrographic Organization defines the boundaries of the Gulf of St Lawrence rather more generously, including the Cabot Strait and some waters to the east of Cape Breton Island inside the Gulf; the accompanying bathymetry image would give considerable justification for this expanded definition were it to make the Gulf coëxtensive with the continental shelf, though, of course, it does not.↩