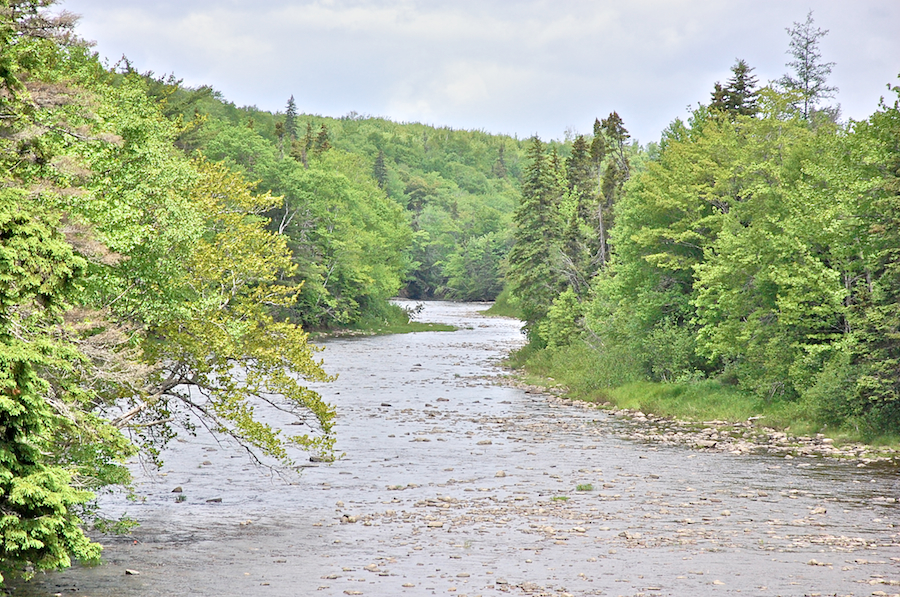 The weather hadn't much improved by the time I got back to Mabou, so I decided to roam about the back country around Glencoe Mills, one of my favourite places on Cape Breton Island. I had been there only a day, so this would be the first of several visits to the area on this trip. Inevitably, I arrived at Long Johns Bridge in Upper Southwest Mabou, from which this photo of the Southwest Mabou River looking downstream was taken.
The Southwest Mabou River is certainly one of the most accessible of Cape Breton's rivers, with an especially beautiful section of the TransCanada Trail (Railway Trail) following its course from West Mabou to Southwest Mabou and beyond southwards towards Glencoe Station. The mouth can be explored from West Mabou Road and, at a distance, from Hunters Road in West Mabou; Morans Bridge and Long Johns Bridge are other access points to the upper part of the river. I am so enamoured of this beautiful river that I have devoted a complete photo essay to it, which can be found here. As the Railway Trail was incorporated into the TransCanada Trail, numerous improvements to the trail's surface and bridges were made; brush was trimmed to improve the sight lines. As a result, it is even more lovely now than it was when I described it in the photo essay.
I do not know the origins of the moniker "Long Johns Bridge" for the bridge in Upper Southwest Mabou, but that is certainly its name. I have been somewhat bemused to discover that nearly every bridge has its own name (often that of a family or a person who lived nearby) whilst the locals (and the topographical maps) have no names for many of the prominences that dominate the landscape all over Cape Breton Island.