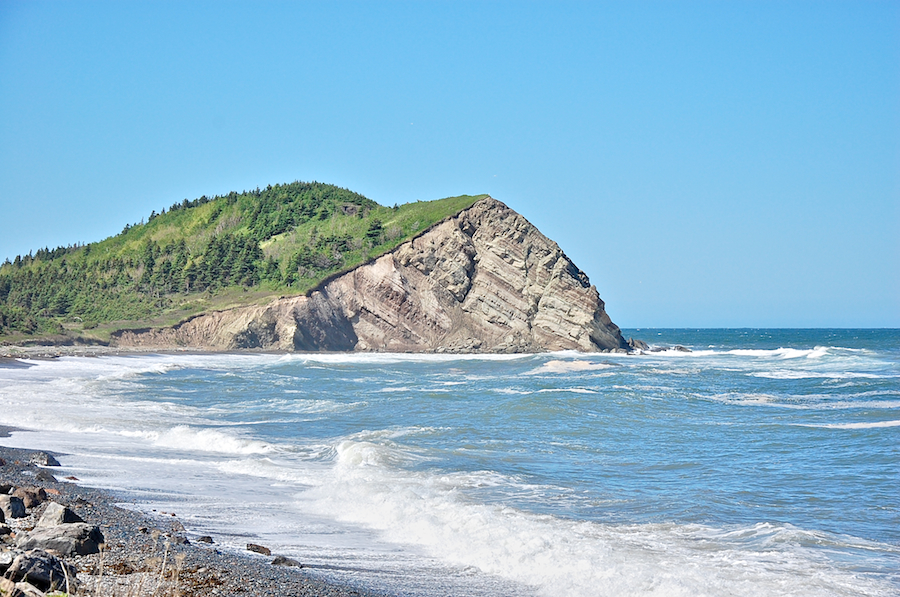 Presqu'Île (Peninsula (literally, "almost-island") and pronounced [prɛski:l]) juts into the Gulf north of Chéticamp. Presqu'Île is very tenuously attached to Cape Breton Island; it lies below Jerome Mountain and is separated from it by a lake whose outflow runs into the Gulf at a cove at the lake's southern end. This view is of the northern end of Presqu'Île, which features a rock face that I find both beautiful and fascinating. I have stopped here many times before; just like the previous views, this view too is an "old friend" I enjoy visiting each time I pass by. But rarely do I get as superb photographic conditions as prevailed here this day! For, by the time I had reached Presqu'Île, the strong winds had somewhat abated — note the relative lack of white caps on the Gulf beyond the rock face — but the wave action at the shore, while gentler, remained very photogenic. This is doubtless the finest view of this intriguing land mass that I have in my collection of Cape Breton photos.
On the south side of Presqu'Île is Pillar Rock and a cobblestone cove with excellent views of Chéticamp and Chéticamp Island across the Gulf. Very interesting rock formations are seen there as well, but they are quite different in form and colouration from the rock face seen in photo #1.
Viewed from the side of Jerome Mountain, as I was able to do during my trip in August from the newly opened hiking trail, Le vieux chemin du Cap-Rouge (The Old Cap-Rouge Road), Presqu'Île presents a quite different profile, seen diagonally running across the length of photo #2. I immediately noticed numerous paths along the western shore of Presqu'Île of which I was previously unaware; I am not sure how they would be accessed, but I'd like to find out when next I have some time to spend there. The aforementioned lake, hidden by the trees in this view, lies to the east side of the Cabot Trail, which can be seen far below in the centre and middle right of photo #2; with a proper blue sky reflecting off the lake, it adds significantly to the gorgeous and iconic view beyond of the Cabot Trail winding along the shore to French Mountain.