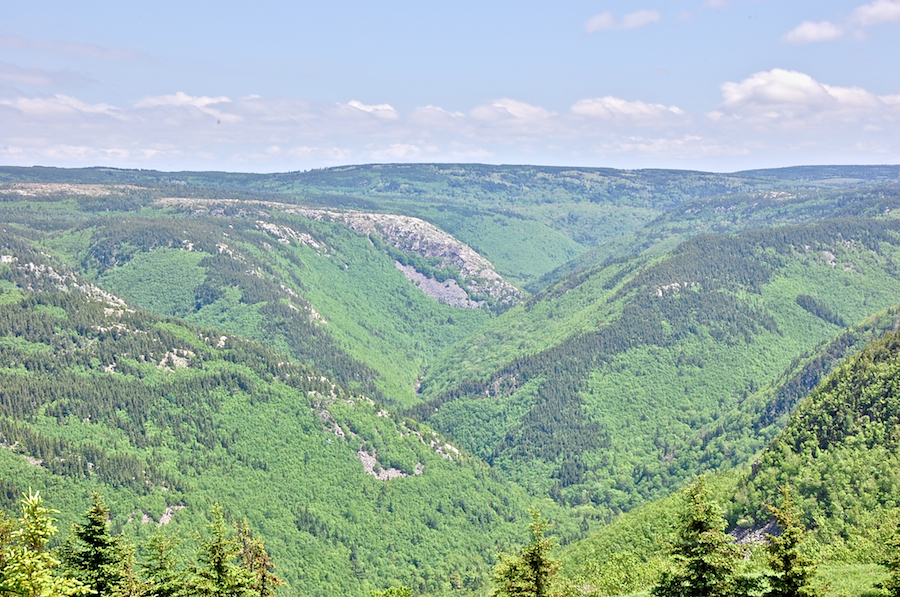 From Pleasant Bay, the Cabot Trail continues west along the coast, crosses the MacKenzies River, and then ascends MacKenzies Mountain via a series of switchbacks accompanied by five look-offs with spectacular views and very interesting interpretive panels. Given the haze, I didn't stop until I had reached the uppermost look-off, when I pulled over to take a quick look. There was indeed plenty of haze towards the water, but inland it failed to spoil the photos, so you will find in photo #1 a view of the Cape Breton Highlands Plateau with the depression through which the MacKenzies River flows.
The view in photo #2 is a telephoto view of the MacKenzies River valley. Although compression has preserved much of the detail, the original makes it far easier to identify the two light spots in the centre of the photo about a third of the way up from the bottom edge: the light spots are rocks or rubble, but to their left the river's flowing water is clearly visible as the darker coloured thin band adjacent to them.
The bridge over the MacKenzies River on the Cabot Trail is usually worth a stop. An unofficial parking area can be found on the east side of the bridge and it is but a short hike either to the bridge itself or down to the river bed, with fine and interesting views of the river in both directions: the mouth is visible to the north and the walls of the canyon loom above the river to the south.
A few years ago, I was on a whale-watching cruise out of Pleasant Bay whose captain took us west along the coast to the mouth of the MacKenzies River in a vain quest that day for seals, who had been reported seen there; whales, however, we saw in great abundance, frolicking as they fed! I was thrilled to get close-ups of this area of the coast from the water; it was a delightful afternoon indeed, enlivened by the playful mammals.
Pleasant Bay is also home to the Whale Interpretive Centre in the area near the harbour; so far as I can tell, it has no web site of its own, but is described very briefly here. I spent a very instructive couple of hours there a few years back and can highly recommend a visit — you will doubtless learn much you didn't know about the whales that are found so readily in the waters off western Cape Breton that the tour operators can guarantee that you will see whales on each trip or you will get your money back, something that I have never heard of occurring. Check the wind speed or phone ahead before you drive there, however; I have a couple of times gone up with the intention of going out on a tour only to be told that the boats were all being held in the harbour because of the waves in the bay.