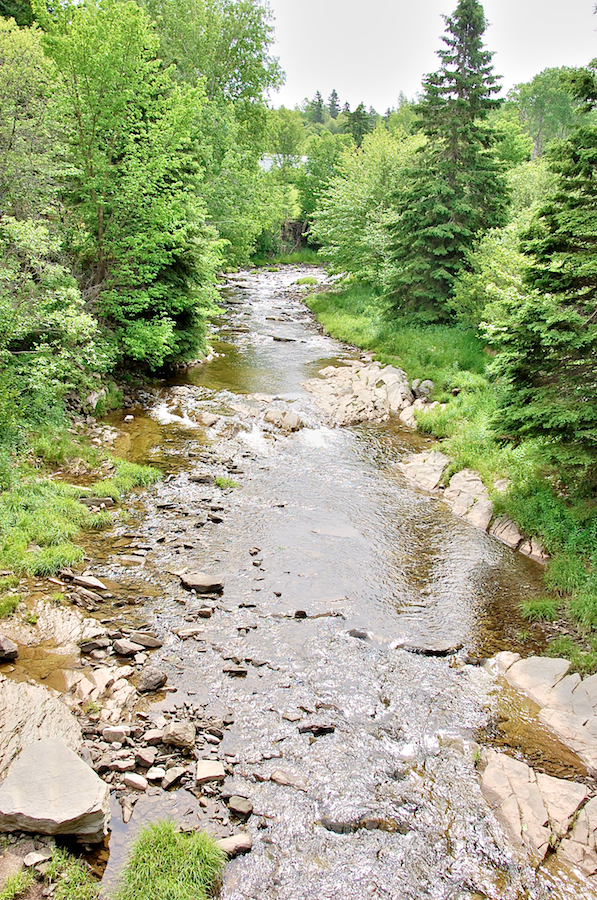 After the Doryman cèilidh, I returned to Mabou for the Saturday evening dance at West Mabou. The photos on this page were taken on Sunday morning as I ventured out into the back country south and east of Mabou, as always in search of photos. The weather was "sunny bright" and there was too much haze for distant views to photograph well, but I enjoyed just being in the back country, driving the roads I have come to know very well.
It had been quite some time since I had stopped to photograph Miramichi Brook from the bridge on the Old Mull River Road (also sometimes called the Brook Village Road, since it leads from outside of Glencoe Mills back to Brook Village). Miramichi Brook rises in Dunakin below the ridge whose road leads to Rosedale, known according to Google Maps and my Prius' GPS as the MacLennan Road (but which I think of as the Rosedale Ridge Road, a name I gave it when I was unable to determine its correct name). From Dunakin, the brook flows generally northwest, though at times more north than west, and empties into the Mull River southwest of Brook Village.
It is a quiet brook; even though it splashes down the rocks seen in photo #1, it makes only occasional gurgles as it passes by and under the bridge. Downstream of the bridge, as seen in photo #2, it is even quieter. Indeed, it looks as if it would be fordable in woods boots at a couple of points. In any case, it is a lovely little stream, one of those back country treasures I find well worth seeking out.