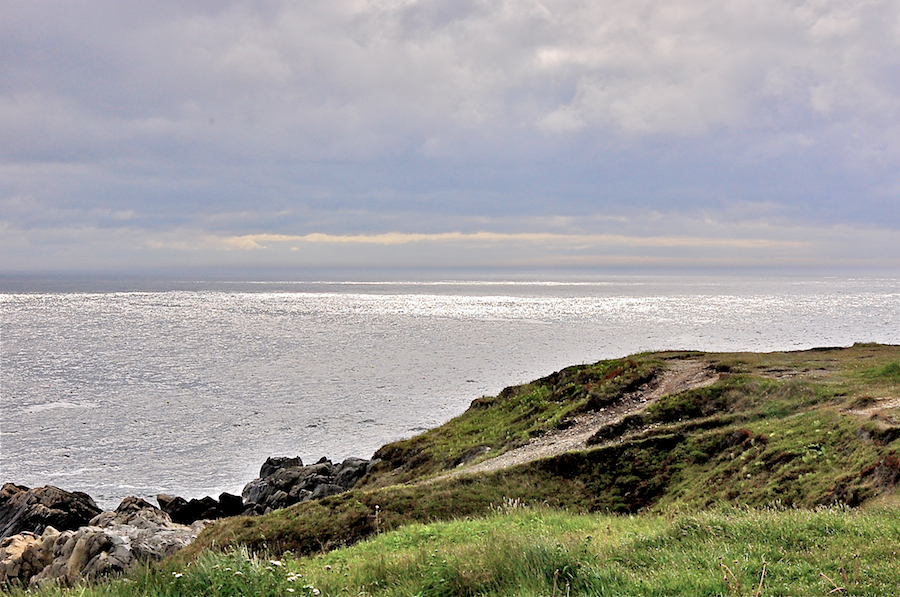 Alas, my June East Coast trip was very much a bust. From Oban, I visited a friend in Lower L'Ardoise and then continued on to Point Michaud, Grand River, and up the Fleur-de-Lis Trail to Gabarus, where I walked along the fine promenade above the beach and took a bunch of photos on what had become a very grey day; since I have many photos from this stunningly beautiful place on a bright sunny day not that many years ago, I wasn't heart-broken, but neither does any photo I took there this trip deserve a place here. I spent the night in Louisbourg, only to awake the next morning to a downpour that lasted all day long. I drove desultorily along the coast from Louisbourg to Glace Bay and back by an inland back-country route, but I took no photos at all as there was no rain-heavy scene that took my eye. To add insult to injury, the Louisbourg Playhouse had not yet opened its season, so there was nothing to do in the evening either. Fortunately, the food in Louisbourg is excellent, so I had a fine meal and retired soon thereafter.
Come Friday morning, the rain had stopped and there was no fog (a plus in Louisbourg, which is often socked in); the clouds, however, were doing their very best to hide the sun and succeeding quite well. I drove out to Lighthouse Point, dallying with the idea of hiking the Louisbourg Lighthouse Trail. When I got there, I decided the photos I'd get just weren't worth the effort, so I sat in the car staring out at the ocean in a blue funk for a good while.
At 9h03, the sun finally broke through briefly, producing the scene above which, for some strange reason, I now find very appealing, though I certainly didn't think so at the time — I seriously debated just letting the moment pass by: it was definitely not a sunrise scene, as by then the sun had been up several hours. Nevertheless, it was the first burst of sun I had seen in two days and was very welcome, so I bestirred myself to capture it with the camera. Herewith, then, is a sunburst photo for your viewing pleasure!
Alas, the clouds soon covered over the errant sunburst and rendered the scene dark and gloomy once again. Since the first Southwest Margaree square dance of the season was scheduled for this night, I petulantly decided there was no point in wasting another day in Louisbourg and headed off in that direction by a circuitous route through the back-country.