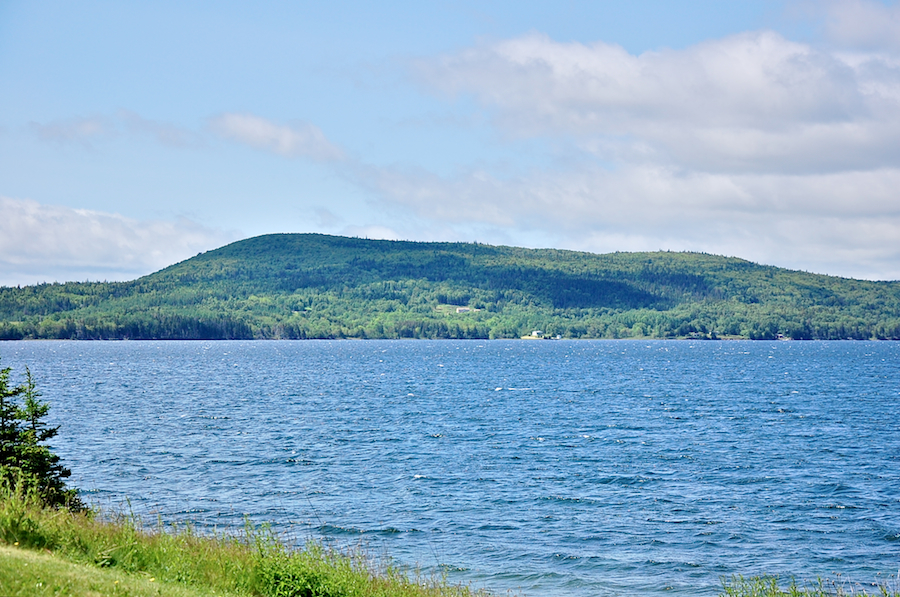 I regret to say that I am not a very patient person and that trait often does not serve me well. For, no sooner had I crossed over the hills northwest of the Mira River to Highway 4 and then turned onto the Coxheath Road at Blacketts Lake than the sun began to shine in earnest, not even an hour after leaving Louisbourg. I have no idea whether the skies had turned blue in Louisbourg too, but by the time I reached Bras d'Or at the head of St Andrews Channel, they had where I was and the day was fast transforming itself into a fine day for photography, though with a small amount of residual haze in the air. I was euphoric, so, with all the time in the world to explore, I turned right just across the bridge and headed down the road on Boularderie Island, another "old friend" I visit as frequently as I can.
I hadn't stopped at Groves Point Provincial Park in quite some time — longer than I realized after consulting the log books of the four past years. I have photos from the area in 2006, but none from the park itself; I must not have stopped there then, but I remember being there at least one other time, though I can't at the moment reconstruct just when. Be that as it may, it's a lovely spot on a point sticking out into St Andrews Channel directly across from Georges River, to the west of which rise the lovely mountains seen in photo #1, the northern prolongation of the Boisdale Hills. The scene in photo #2 is of the beach at the park in the foreground, of Groves Point in the left middle ground, and of the Georges River area to the left (northeast) of the view in the photo above.
Other than the groundskeeper who was mowing the lawns, I was the only person there this late spring day, though I'm sure that its lovely sand beach, which extends some ways off shore, must attract quite a crowd during high summer.