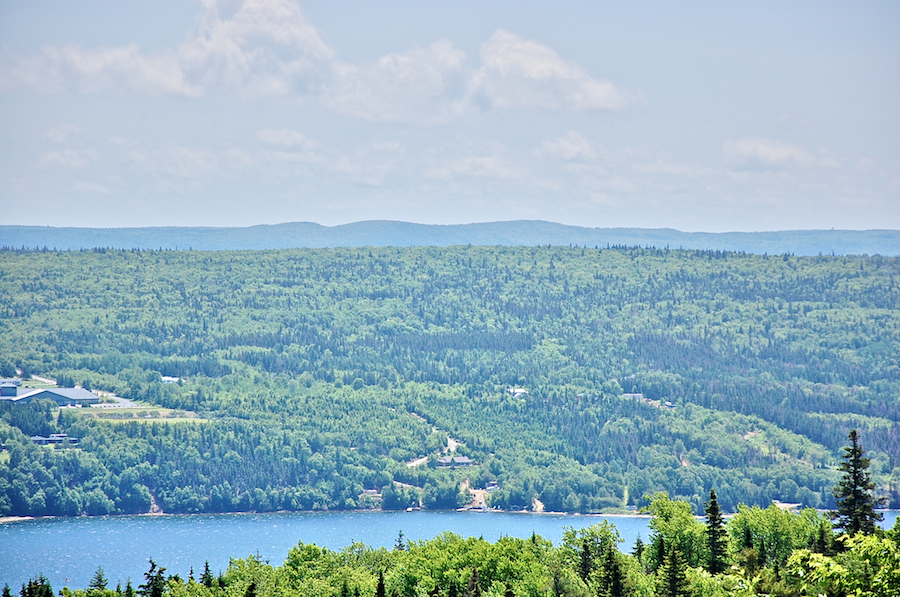 This view from high up on the side of Kellys Mountain is from the Bras d'Or Look-Off on the Trans-Canada Highway (Highway 105). Somewhat to the left of the photo and outside its scope is the often photographed Seal Island Bridge, a fall view of which is here. I chose this view because it shows the Boisdale Hills rising on the east side of St Andrews Channel in the far distance above the somewhat lower heights of Boularderie Island in the middle ground and the Great Bras d'Or Channel in the foreground just below Kellys Mountain. The school building in Boularderie Centre, site of a Celtic Colours concert each fall, can be seen at the left edge of the photo.
The heavily forested nature of this part of Boularderie Island leaps out from this photo. The road along the western shore can be glimpsed above the roof of the school; the remainder of its path is hidden by the trees, but the two houses visible at the top of the lower third of the photo hint at its subsequent route. It is this terrain and the road's distance inland that sadly so limits the views from the western road in this part of the island.
I believe I once drove down the road showing in the lower centre of the photo, but reached a point where it entered private property and from which there were no good views.
That this was not a hazeless day is obvious from this photo; it is surprising (and gratifying) that the photos nevertheless turned out as well as they have, much sharper than I thought they would at the time.