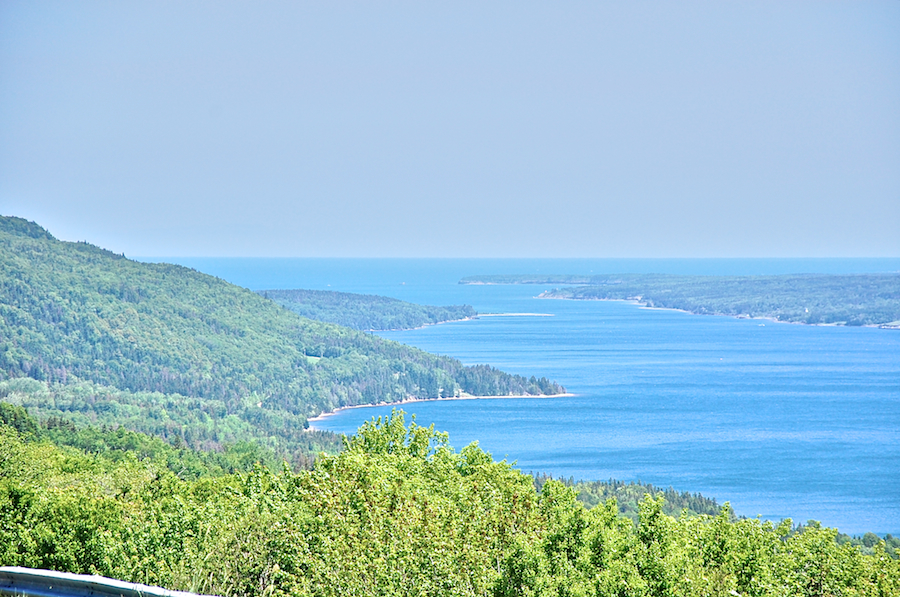 This photo shows where the Great Bras d'Or Channel enters the Atlantic Ocean between Cape Dauphin on the left (west) and Boularderie Island on the right (east). The point sticking out into the Great Bras d'Or Channel in the centre of the photo is Chain Point; the one beyond is Carey Point. Only the upper edges of Cape Dauphin can be seen here at the far left of the photo; much of it is hidden by the hills descending to Chain Point. The furthest promontory on Boularderie Island is Table Head; it and the coastal area to its south lie in Victoria County, while the uppermost land at the far right of the photo is in Cape Breton County. The Point Aconi Generating Station sits just to the right of this land and outside the scope of this photo.
A road runs from the hairpin turn on the Trans-Canada Highway (Highway 105) at the base of Kellys Mountain out towards Cape Dauphin; at several points, it offers good water-level views of the Great Bras d'Or Channel. Unfortunately, so far, each time I have been out that road, the weather has not been good for photography. Beyond New Campbellton, the road runs inland of a line of private cottages along the shore; I found no really fine vantage points from which to photograph the Cape descending into the water nor even the area next to the road.
How beautifully the blues and the greens of this photo sing together! It had indeed become a lovely day and whilst the highway was abuzz with traffic, I shared the tranquillity of this view with a huge black raven that had alit on the look-off's pavement 30 m/yds away from where I had stopped. It was still sitting contentedly there when I left.