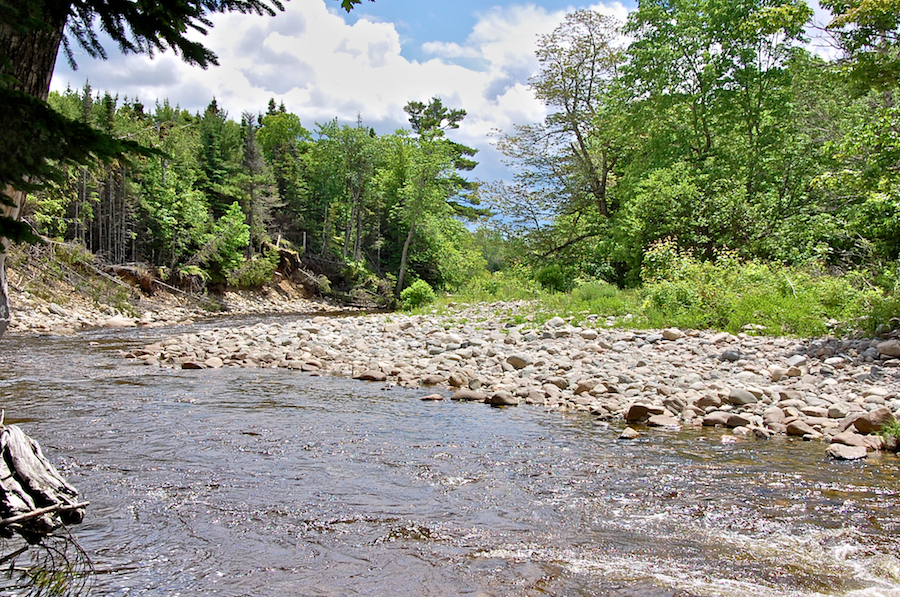 The day before I was to leave for home was a Friday, which meant I would be at the dance at Southwest Margaree in the evening. Since the weather was generally quite good, I decided to drive back to the St Anns Bay area and check out the Red Island Trail, which I had briefly reconnoîtred on my previous trip up to Wreck Cove. That trail begins next to the parking lot of the St Anns Bay United Church in Indian Brook.
I first heard of the Red Island Trail a couple of years ago; it is apparently a relatively recently constructed hiking trail in generally fine shape, though with some blow-down that hadn't been cleaned up the day I was there, requiring some short bushwhacks to bypass. Clouds of voracious mosquitoes attacked me soon after I started hiking — I easily killed fifty at a whack and I was forced to whack again and again while I stopped to quickly strip off my pack, get out my Deep Woods Off™, and apply it liberally to all of my exposed skin and external clothing, after which I was no longer an attractive target for insects.
Approximately six minutes down the trail, I was standing above the Barachois River (at GPS 46°20.837'N 60°31.973'W) beside a steep side trail down to the river bank, which I descended. The photos on this page come from beside the river. Photo #1 looks downstream; photo #2 looks upstream.
The Barachois River rises in the Cape Breton Highlands, flows alongside the Cabot Trail from Tarbotvale to Indian Brook, where it passes beneath the bridge there on the Cabot Trail, and eventually flows into St Anns Bay. It has not previously figured in these essays, not because I was unaware of it (I had driven along portions of it several times, one of them being in 2008 when I got this fall photo (in which the river is hidden)) nor because I wasn't taken by it, but because I lacked both sufficiently good photos of it and a compelling reason to use the ones I had. Neither condition now applies and I am happy to share these photos; at least in the portions I have seen, and certainly in these two photos, it is boulder-strewn, fast-moving, and very attractive.