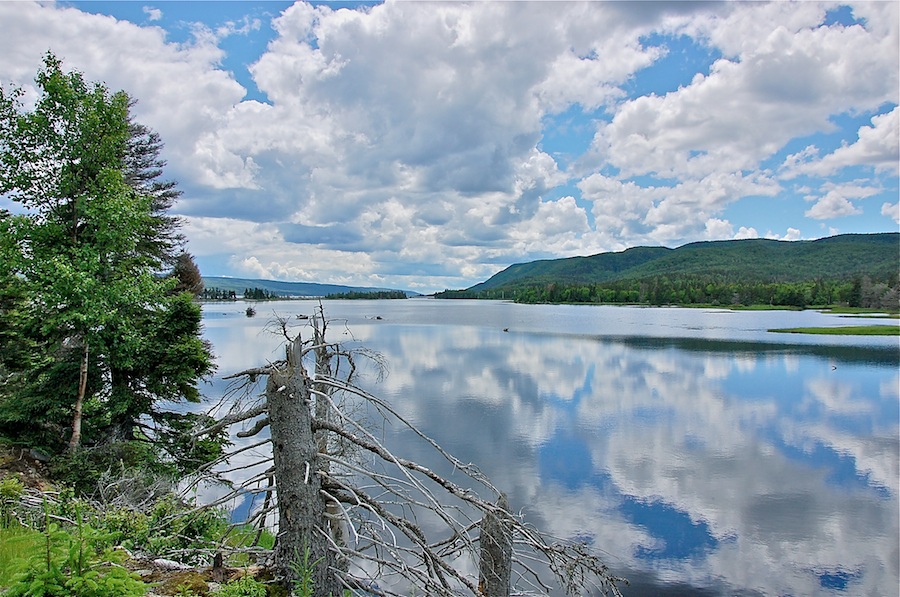 Ten minutes further down the trail, I arrived at the banks of what the topographical map calls Barachois Pond, with a delta-like area at its upper end and delimited from St Anns Bay by a long spit of land (primarily cobblestone "beach" on which some trees have established themselves), through which the Barachois River flows before emptying into St Anns Bay proper. Photo #1 well illustrates the lie of the land here, showing this spit of land running across the left middle of the photo from the tree at its far left to its centre. But my primary reason for including this particular photo is that I was struck and even bemused by the beautiful and somewhat mesmerising reflection on the water close to near shore of the busy and constantly changing skies that none of the other photos I took here captured anywhere near as well.
The mountains in the far distance at the left are the massif running from Cape Dauphin to Beinn Bhreagh; it includes Kellys Mountain, mostly hidden by the tree at the left of the photo. Those at the right of the photo are the Cape Breton Highlands, with Murray Mountain sloping in the middle distance down to Price Point. St Anns Harbour lies beyond.
Photo #2 is a close-up of the area right of centre in the photo above. The telephone poles seen right of its centre border Highway 312, which leads from the Cabot Trail at Indian Brook to the Englishtown Ferry, across it, through Englishtown, and out to the Trans-Canada Highway (Highway 105). The cobblestones at the far left of the photo identify the spit of land east of Jersey Cove (the water) on which Highway 312 runs out to the Englishtown Ferry, seen earlier from the south at St Anns.
[continued below]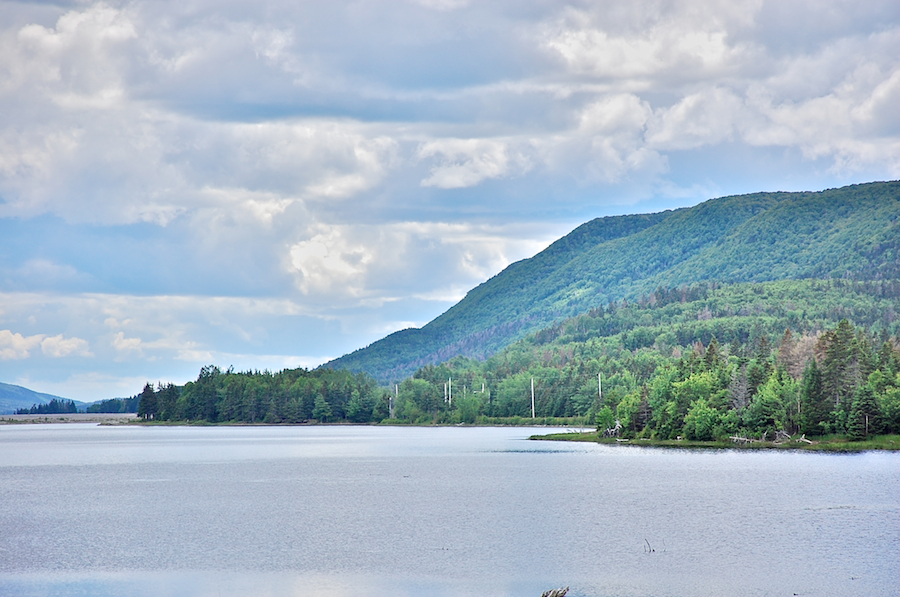 Photo #3 looks back inland towards the delta area through which the Barachois River flows on its way to St Anns Bay, well to the right of the scope of photo #1. This calmer water (because it was in the lee of the winds blowing that day) reflects the adjacent trees and skies, though not so stunningly as in photo #1. If you look closely at photo #3, you will see dead white spruce trees sprinkled throughout the greenery; they appear as denuded trunks or as trees with greyish-white dead branches (and often broken trunks, as in the foreground of photo #1) or as trees with brown-coloured dead needles in the process of being transformed into the former. The area adjacent to this overlook had more downed dead trees across the trail than the rest of the areas along the trail. How sad it is to see these once healthy trees brought low!