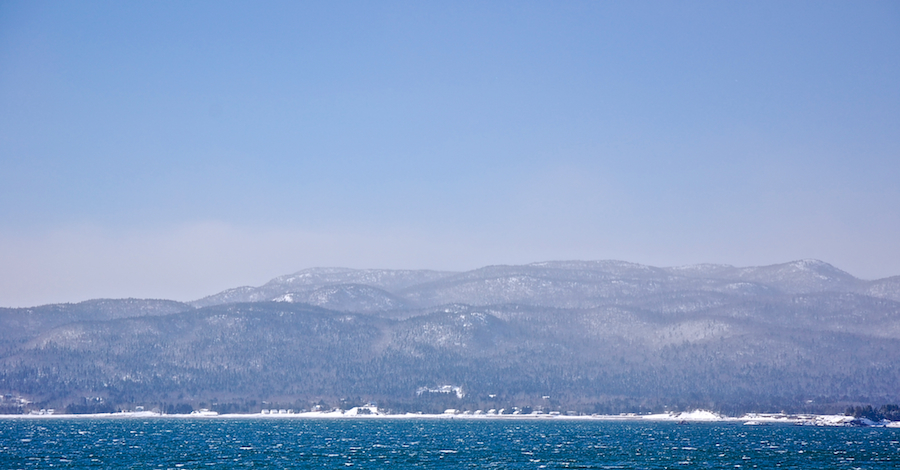 After leaving Keltic Lodge, we continued our drive north to Ingonish, and, at the edge of the village, pulled off onto Wharf Road, which we followed to its end. This is ordinarily a very fine spot from which to view the Cape Breton Highlands in particular and the Ingonish-area scenery in general. This day yielded some fairly decent photos, but there was enough haze in the air that they are not as sharp as I had hoped when I took them.
Photo #1 looks towards Ingonish Centre, strung out along the shore of North Bay Ingonish, and beyond to the Highlands rising above it. Although I have not yet had the opportunity to hike up to the Franey Mountain look-off, from which I have seen photos of stunning views, I believe that it is somewhere toward the left end of the prominence left of centre furthest back. The topographic map gives the height at the look-off as 428.1 m (1404.5 ft). Even though there are many individual and distinct features in this photo, the topographical map leaves them all nameless, except for Franey Mountain.
Photo #2 looks a little to the right of Ingonish Wharf to the southernmost part of Ingonish Centre, well to the left of the scope of the larger photo. If you squint carefully, you can make out in the shade at the far left the twin towers of St Peters Church; it sits several metres/yards south of the mouth of the Clyburn River, above which the Highland Links Golf Course is laid out. Another hiking trail, which I have hiked, though not in the best of weather, follows the Clyburn River upstream for roughly 4.25 km (2.6 mi) through the valley it has carved, one of the features seen from the Franey Mountain Look-Off high above.