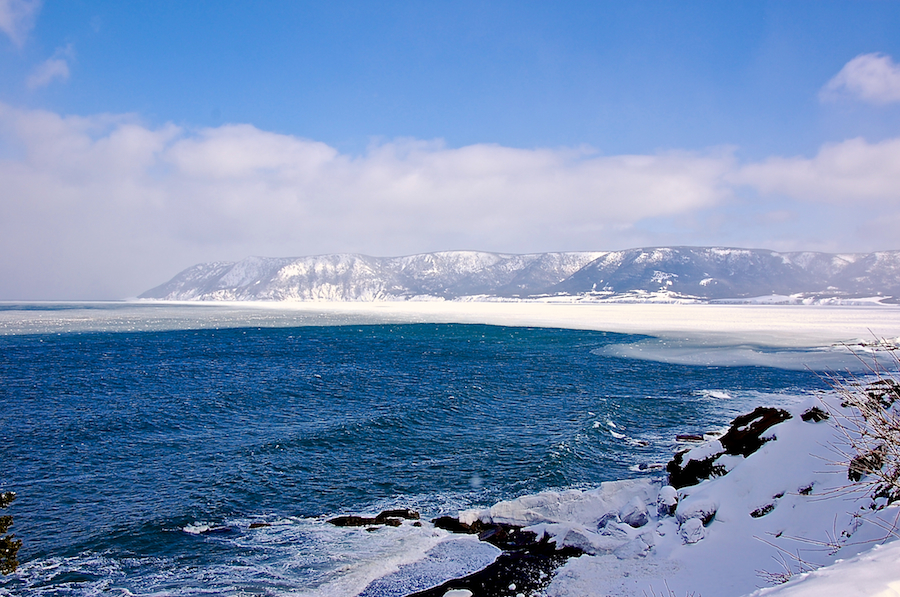 We continued on into and through Capstick and stopped again outside it near where the paved road becomes a gravel road, from which I took this shot (and many others) of the always beautiful Cape North Massif, here resplendent in the winter sun. And that gorgeous water reflecting the blue of the skies above! Who could possibly not take great joy and immense delight in such a stunning view?
Photo #1 gives a rather different take on the sea ice in Bay St Lawrence: it can now be seen that, on this day and at this time, it extends not much further west than Capstick itself. Moreover, one can see it in the active process of formation and consolidation—notice the floes near the shore, further out, and way out, as well as the much tinier pieces of ice seen floating in the waves (the original shows that even the spots riding the waves close to shore are not white caps). Snowfall, waves, currents, and especially the winds all contribute to sea ice formation and its subsequent break-up. It is amazing how rapidly the ice cover can change overnight! Environment Canada's ice maps, mentioned in the introduction, allow one to follow its seemingly random evolution from day to day and thereby watch this astonishing process in action; the best time to study it is usually from late January or early February through the end of March, though some years (such as 2010) there was very little sea ice at all and other years it may start earlier and last through April.
Photo #2 shows the waves breaking on the rocks on the shore below where I took these photos. I am always a sucker for wave photos and love to watch them come ashore in a glory of froth and foam, as here, or simply wash gently and quietly ashore. To my eyes, that sure looks like snow cover on the rock just right of centre and on the rocks along the shore, but, with all the splashing that they must get, it is hard to see how it could be anything but ice; indeed, the much larger original confirms that icicles are dripping down from the white covering on the rocks along the shore, so ice it must be.