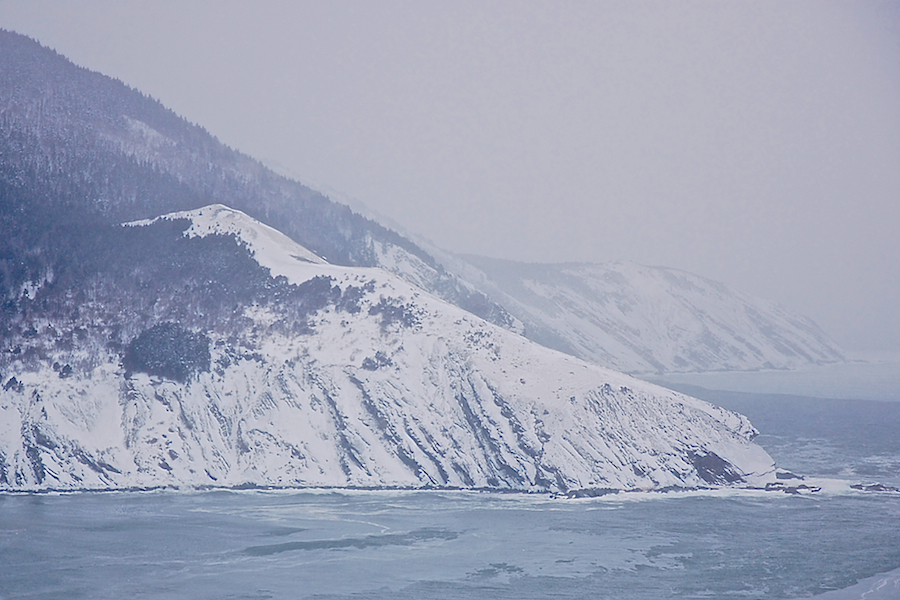 As we made our way past Black Point on our return from Meat Cove, we could not resist another stop there to look back at Meat Cove and the nearby area; it was there that I took photo #1 of Blackrock Point and the coast out to Cape St Lawrence. The snowy slope above and beyond Blackrock Point leads up to Little Grassy, which the topographical map shows as rising above 240 m (785 ft). The coast beyond to Frasers Beach below Bear Hill and all the way to Cape St Lawrence (at the far right of the photo in the distance), which I always think of as being rock-cliffed (see this photo, for example) here is mostly shrouded in white, with only hints of the underlying rock faces coming through the haze, fog, and blowing snow. I can only imagine what this scene must look like in bright sun!
Photo #2 is also of Little Grassy, taken from when we were beside the Meat Cove Campground in the village twenty minutes earlier; the deck of the Chowder Hut across from the campground is at the far left of the photo. In spite of the very visible falling snow, there were hints of blue skies and enough sun to make the snowy summit of Little Grassy at the centre of the photo stand out, as the scene at the top would have done had the sun hung around long enough.
The floating ice floes interspersed with open water in Meat Cove to the east of Blackrock Point continue around it to the west, where a larger, more consolidated floe is already close in to the shore at Cape St Lawrence.