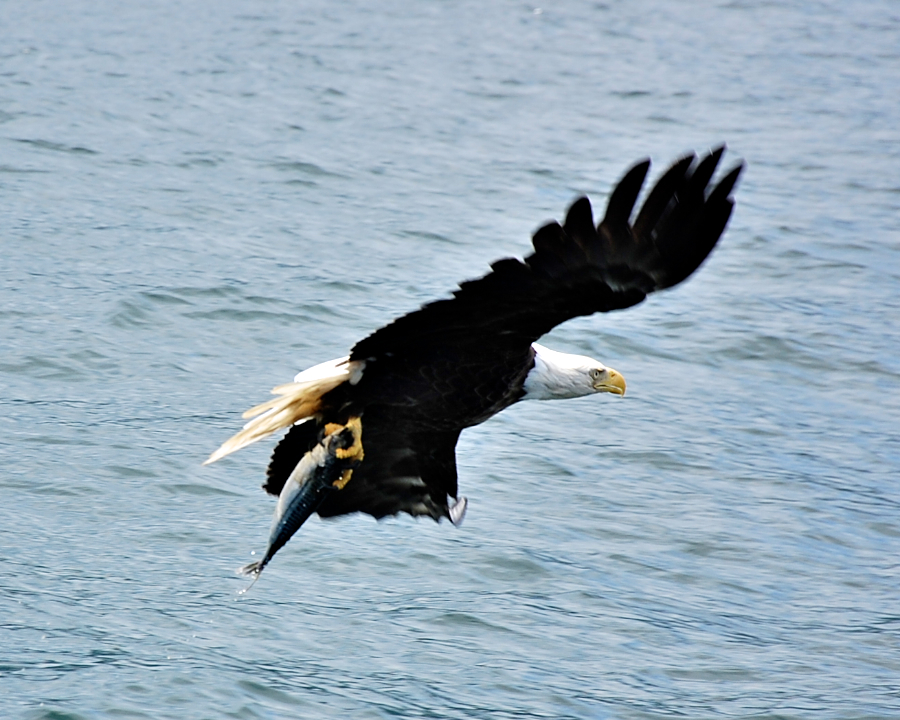 The Highland Lass, our tour boat, was nearly full (it holds 38 passengers) as it left the Englishtown wharf for the Bird Islands. Donelda MacAskill, the tour guide, knows the area well, having fished for lobsters for nearly twenty years with her husband John, who is the boat's captain. She told us that it was their custom to toss out a mackerel to an eagle who knew that they would; she alerted us well in advance so that those of us who were photographers would have our cameras ready. It was not, therefore, pure luck that I got the fine shot in photo #1.
Photo #2 shows the eagle on its way towards the tour boat, just beginning its descent to capture the fish it knew would be tossed to it.
[continued below]
Photo #3 shows the eagle with its prey returning to its ærie on the slopes of Murray Mountain across St Anns Bay.
In photo #3, the narrow spit of land formed of cobblestones and sand washed up by the ocean can be seen on the near shore; Highway 312 crosses that spit of land, which runs nearly north/south and separates Jersey Cove in St Anns Harbour from St Anns Bay, constricting the entrance to the harbour to the narrow channel that the ferry crosses (to the left and out of the scope of this photo). For a more global view of this area that will clarify this distinctive spot for those that do not already know it, see this view.
The houses one sees in photo #3 lie at the base of Murray Mountain along the Jersey Cove Road, which leaves Highway 312 at the northern end of the aforementioned spit of land. Jersey Cove (the water) lies on the other side of the narrow peninsula, hidden in this view by its cobblestones.
I regret to say that I did not watch the eagle long enough to determine where he took his fish: other sights on the east and north side of the boat captured my attention long before he reached the western shore. I am, however, sure he must have enjoyed his prize or he'd not have made the flight across St Anns Bay to get it.