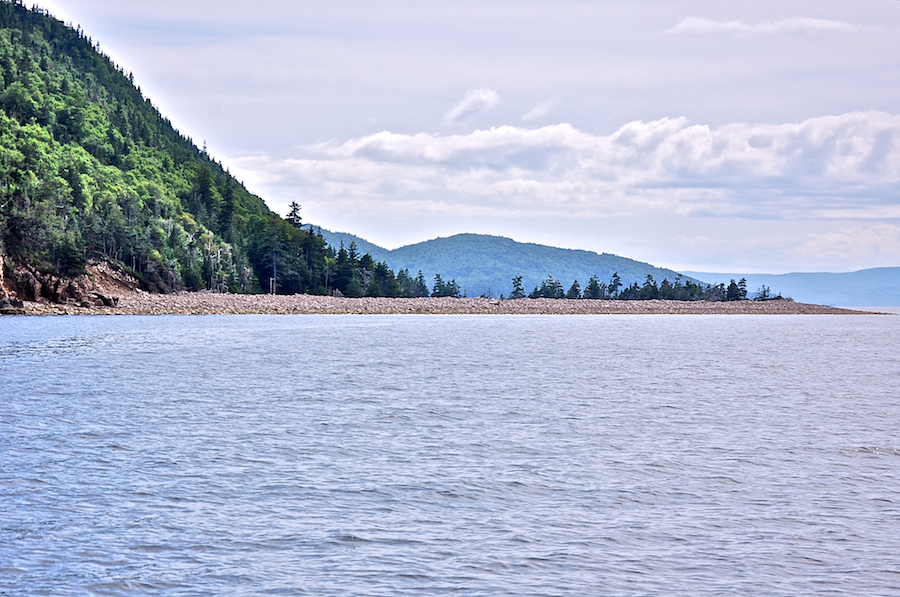 Photo #1, also taken on the return trip, shows Big Grappling Beach from the north. Beyond it, just left of the centre of the photo, one can see a prominence, part of the massif that forms Kellys Mountain, that runs down to St Anns Bay where it forms the aforementioned Feders Point north of Englishtown. The Cape Breton Highlands beyond St Anns Harbour are at the far right of the photo.
As can be seen in photo #1, the cobblestones which form Big Grappling Beach jut out a consider­able distance into St Anns Bay. Both Google Maps and the topographical map show that Big Grappling Beach is actually the outside of a barachois, an Acadian loan word, pronounced [ˌbærəˈʃwɑː], used in the Maritimes to designate a small body of water, once open to the sea, that has since been cut off from it by the action of the sea and storms, often causing the now enclosed salt water to become fresh since it is no longer in contact with the sea and is only refreshed by rain.
Photo #2 was taken on the outbound trip and shows the northern tip of Big Grappling Beach (at the far right of photo #1) as we passed by it. So far as I am aware, there is no land access to Big Grappling Beach. The cliffs above St Anns Bay along these shores on both sides of Big Grappling Beach fall nearly straight into the water. The rock pile seen in the upper portion of the photo, where few trees are growing, probably has an interesting story to tell.