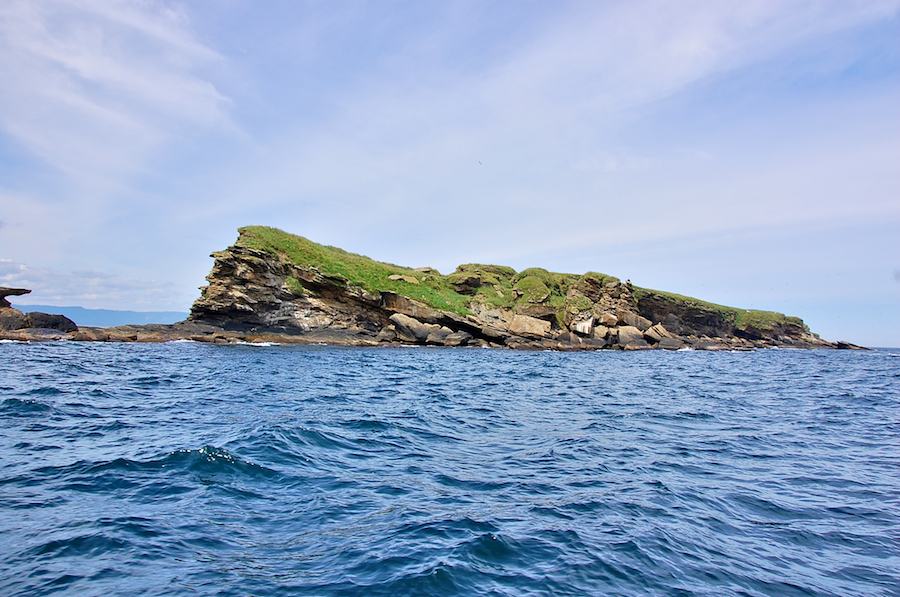 Photo #1, which includes portions of the southwestern part of Ciboux Island previously seen, shows considerably more of its eastern shores. The Cape Breton Highlands can be seen through the haze across St Anns Bay at the far left of the photo.
Ciboux Island is the longer of the two Bird Islands, with a length of 1.7 km (1.1 mi), not counting the rocky islets the topo­graphical map shows on each end (Hertford Island comes in at 1.3 km (0.8 mi)).
Photo #2 con­firms the theory of sub­si­dence as at least part of the ex­pla­na­tion for the grassy mounds; at the far right of this photo, there is even a hole through which one can see the sky be­neath the still-in-place rocks and soil above. The bare rocks seen here are all that re­main of what must once have been covered as the rest of the island is.
Notice too the peculiar and very precarious rock stack right of centre in photo #1 and at the far left of photo #2: one of nature's own inuksuit!¹
I am not sure why the preceding photos are so lacking in birds in the sky, but photo #2 shows they weren't completely a figment of my imagination. My memory is certainly that of birds constantly being above and on all sides, as seen here, as we crept along the shores of both islands.
Also note the wave action here, not caused by the boat. The waves, which photo #1 shows were rolling in from the open Atlantic Ocean to the east, were by now rocking the boat enough that I was forced to follow the old adage: one hand for the camera, one hand for the boat.
---
¹ See here for the spelling of this word.↩