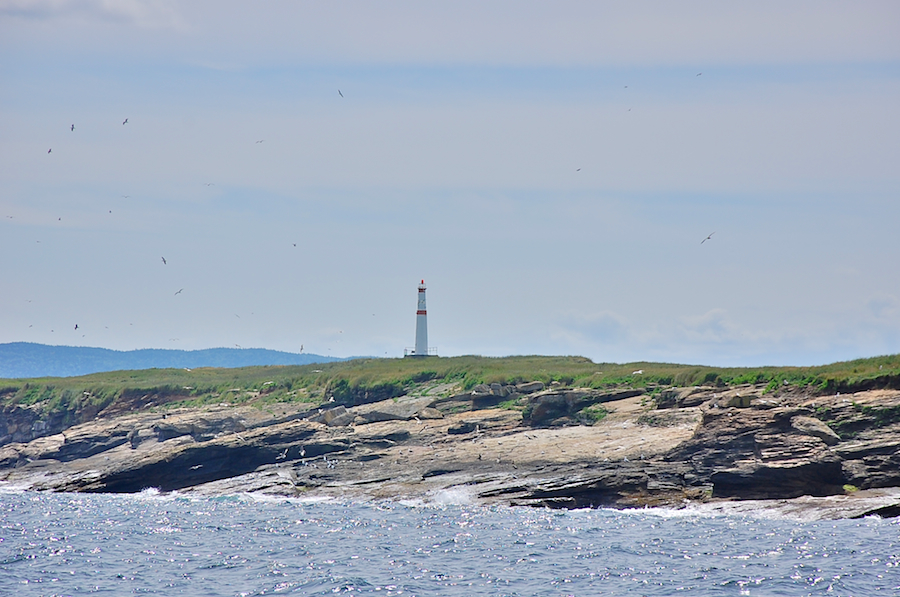 According to the Nova Scotia Lighthouse Preservation Society web page for Ciboux Island Light, the tower one sees here is no longer standing, an obvious error, especially given that they show a photo of it. Their description, however, is accurate: "Round fiberglass, two red bands, no lantern"; they show it began operation in 1980.
According to the same web page, two lighthouses once stood on this island. The first was an octagonal wood tower painted white, with a nearby dwelling; it began operation on November 20, 1863. In 1875, the initial light was replaced by a square wood dwelling, painted white, with a flashing red lantern on its roof; the height of the light above water was 23.5 m (77 ft), which is probably about the same as the current light. In 1883, the second light was given a revolving red catatropic lens flashing once a minute; in 1922, that lens was replaced by a red catatropic long focus lens, flashing every fifteen seconds. That light was automated in 1952. In 1980, it was replaced by the fibreglass red-banded white tower with an automated light at the top that one sees in these photos. The current light at Fourchu Head (on the east coast of Cape Breton Island), seen here, looks quite similar in appearance to this light; the salient difference is that it is surmounted with a white light, rather than the red light seen here.
Notice the large number of birds visible in photo #1; many are in the air (some high up and some superimposed against the grass), but many are also found on the rocks in the foreground. Some of these latter are herring gulls, but other species are intermixed with them; under magni­fication, I do not pick out any puffins in the original, but do see some razorbills. There are also birds nesting in the grass at the far right (nearly invisible in this compressed view).
I make out only a single bird in photo #2. Do you see it? (Hint: examine the light closely!)