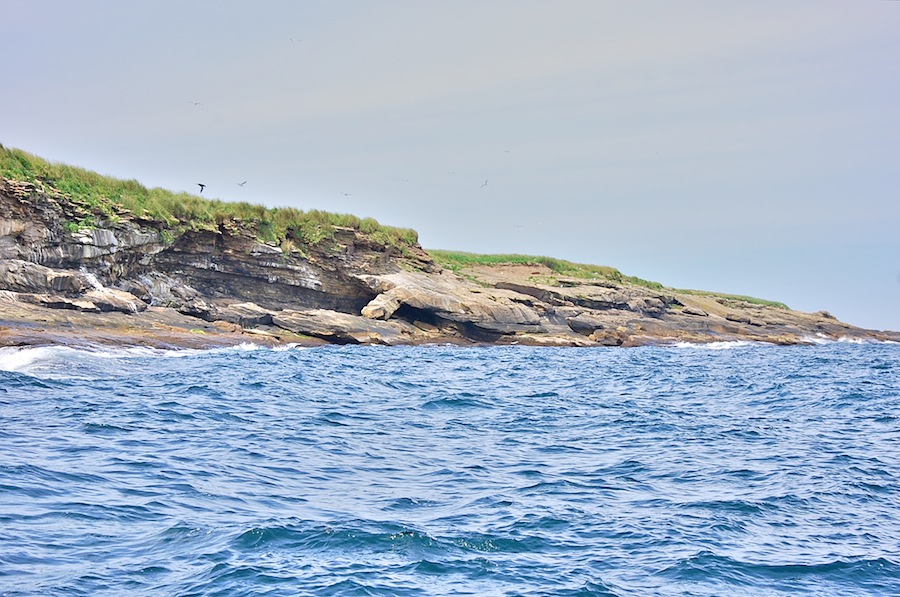 The photos on this page provide various views of the eastern side of the northern end of Ciboux Island just before the tour boat rounded it to reach the more peaceful waters of the western side. Photo #1 is the most southerly of the four views; the others are taken from points that are each progressively further north.
Photo #1 shows a very interesting rock formation in the shape of a giant turtle, with its head and front left leg extended from its shell. Looking very carefully, I think that the stripes in the head, which run counter to gravity, are dykes and perhaps some of those on the front of the shell are as well (both the rifts in the rocks that make up the turtle's shell and the large number of guano streaks make it very hard to be sure): the colours of the rocks here are very similar to those seen at Green Cove along the Cabot Trail. Still, the vast majority of the stripes seen on the shell and elsewhere on the rock cliffs are guano, not dykes. So far as I can see in the original, no eagles (nor other birds) are in the caves at the left of the photo.
As in photo #1 of the Ciboux Island Light on the previous page, numerous birds can be seen here on the rocks and some in the grass; those in the top two photos are nearly exclu­sively herring gulls.
[continued below]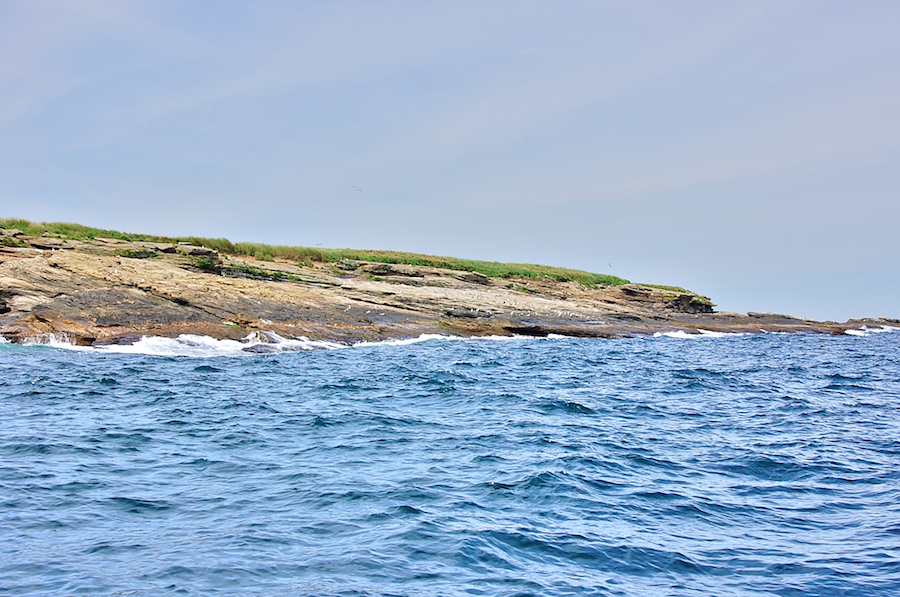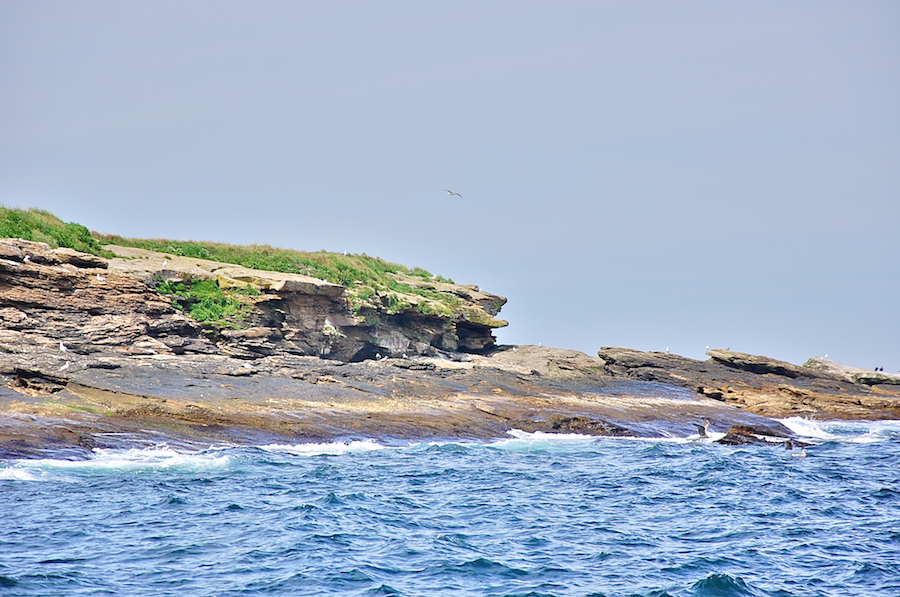 In photo #3, most of the birds are again herring gulls, though two cor­mo­rants are found at the far right and three birds that are not gulls are standing in front of the small cave in the centre of the photo: I can not make out to what species they belong—at high mag­ni­fi­ca­tion, they look to be tannish grey and have a shape similar to that of a cormorant. In photo #4, there are gulls in the air, but the tip of the island is exclusively cor­mo­rants.
The sharpness of the rocks below the northernmost grass cover and on the northern tip of the island is again remarkable, though they are somewhat less chiselled than those seen previously on Hert­ford Island. But it is the loss of everything but the bedrock on this north­eastern extremity of the island, even more pro­nounced than on the southwestern one, that I find most striking in these views.
In photo #4, a grey seal is stretched out on the rocks a bit left of the centre of the photo (from this distance, he appears black against the brown rocks). This was the first one we had seen, but it was hardly the last!