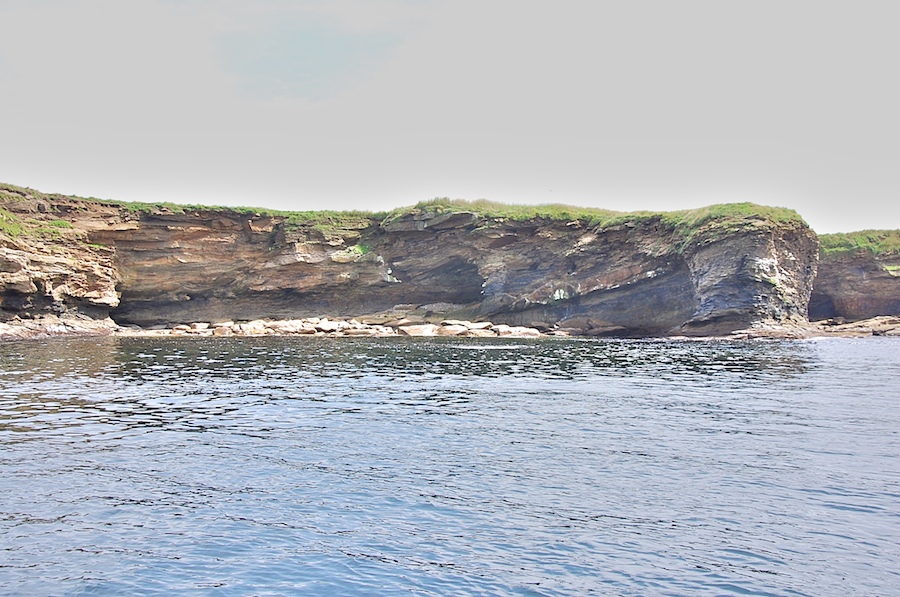 I saw so many interesting rock formations in the Bird Islands! The photos on this page show another one, this one a column that has so far successfully resisted the forces which have carved out the cave to its left.
Birds are to be found in the original of photo #1, though most did not sur­vive the com­pres­sion to the version found here. The only one here that is easily spotted is the her­ring gull on the shore right of the centre. Under mag­ni­fi­ca­tion, it is possible to spot a few puffins in the various hidey-holes in the cliff face at various points along the cliffs; the two white spots on either side of the cave in the centre of the photo, however, are not birds—they are rocks glistening in the sun. The same is true of the other white spots just below the grass at the top of the cliffs.
Do you see the black swan to the right of the herring gull in photo #2? This is a curious artefact of the lighting: it's actually an illusion caused by the space between three rocks! Another interesting fea­ture in photo #2 is the jutting rock in the black seam on the right side of the column: it projects out at least two feet from the rest of the column. How was it able to survive when those above it were not?