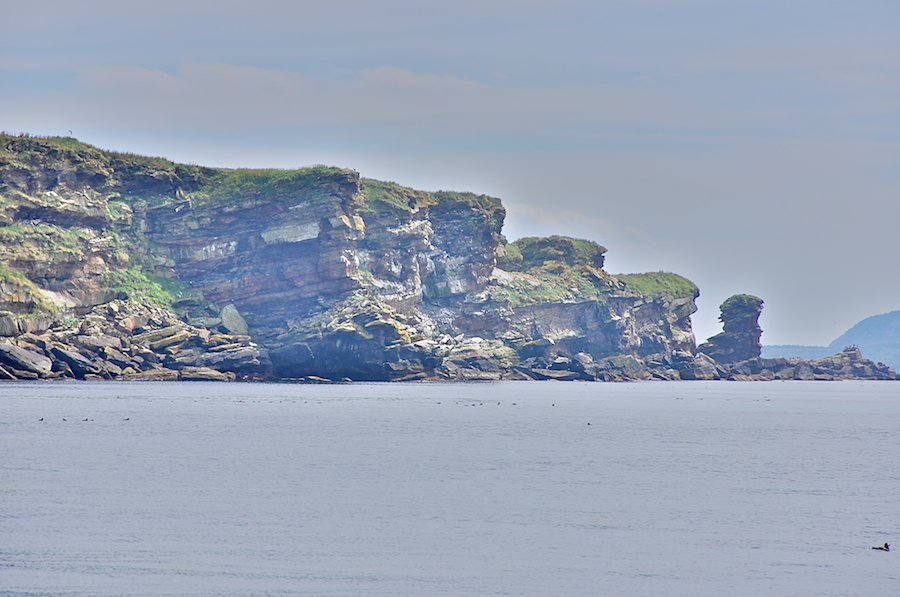 While we were near the middle of Ciboux Island, the tour boat captain directed the boat west well away from the shores of the island, whether to avoid an underwater hazard or for some other reason, I do not know. In any case, the GPS track shows a distinct squarish bulge of several hundred metres/yards at this point. While this took us away from our inspection of the shore, it also gave us an opportunity to see the island from further away, getting a better idea of the whole. Photo #1 was taken on the outward leg of that bulge, looking again towards the southwestern end of the island.
Magnification of the o­rig­i­nal reveals eagles along these shores: there is a black-coloured rock decorated with algæ about a quarter of the way in from the left that is standing more or less up­right: an eagle is sitting on top of it; another is sitting in a green area of the cliffs above and to the left of the rock. There are like­ly other eagles, but I was not cer­tain of their iden­ti­fi­ca­tion. Several white-breasted birds can be picked out with mag­ni­fi­ca­tion in cre­vices all along the cliffs and especially in the rock column in the centre of the photo; in this com­pressed view, they ap­pear as minuscule white dots.
Photo #1 shows four clusters of Atlantic puffins swimming (and likely feeding), one at the far left, one to its right, one in the centre, and a fourth below the "conning tower" (which has now come into view); a fifth cluster is at the far right of the photo and mostly out of its scope, with only a single one of its birds showing.
Photo #2 is a telephoto shot of the cluster at the far right; it includes some of the members that were cut off in photo #1. I am disappointed that the distinctive orange coloration of their beaks came through so poorly in this lighting—only the shape of their bills confirms that they are indeed puffins.