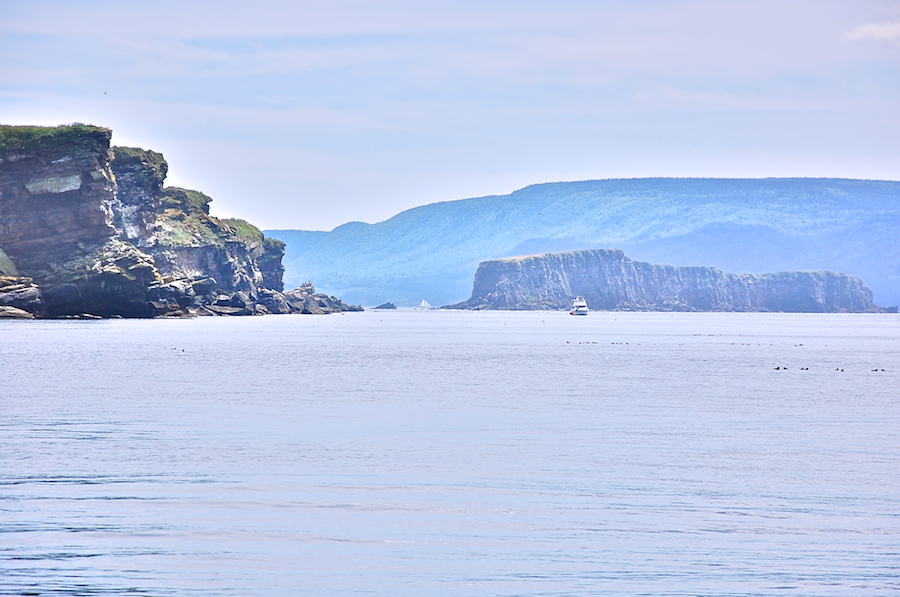 Having returned closer to shore from our excursion to the west, the tour boat is now beginning to approach the southwestern end of Ciboux Island. In photo #1, the view is through the gap between Ciboux Island and Hertford Island. The Great Bras d'Or Massif and its lovely line of hills descending to Cape Dauphin serve as a backdrop. One of the rocky islets sits a bit off-centre in the gap. In addition, two boats have now appeared, a sailboat in full sail in the far distance below the massif and a diving boat on this side of Hertford Island. Again, clusters of puffins swimming and feeding can be seen at several places on the placid waters.
Photo #2 is a close-up of the upper part of the cliff seen at the left of photo #1. I will leave it to you to find the two eagles that are in plain sight in this view. A herring gull is sitting on the edge of the cliff at the far right.
The guano stains in evi­dence in photo #2 merit some dis­cus­sion. No­tice the greenish-white blocks of rock seen on this cliff. The vertical greenish stripes are very likely guano that is hosting algæ or some other chlorophyll-based plant. But notice the white colour underneath. Under magnification, it almost looks as if a thin layer of cement has been applied to it—the normal red of the adjacent rocks can be readily seen on the short end and the bottom of the rectangular block. The same phenomenon is vis­i­ble on the smaller squarish protruding block to the right; the faces are the same whitish cement colour, but the bottom shows the normal reddish colour. The only hypothesis I can come up with is that the guano has been layered over the years to the thickness of a coat of plaster. But, if it be layered guano, why are the rocks above not coloured likewise? Very strange!