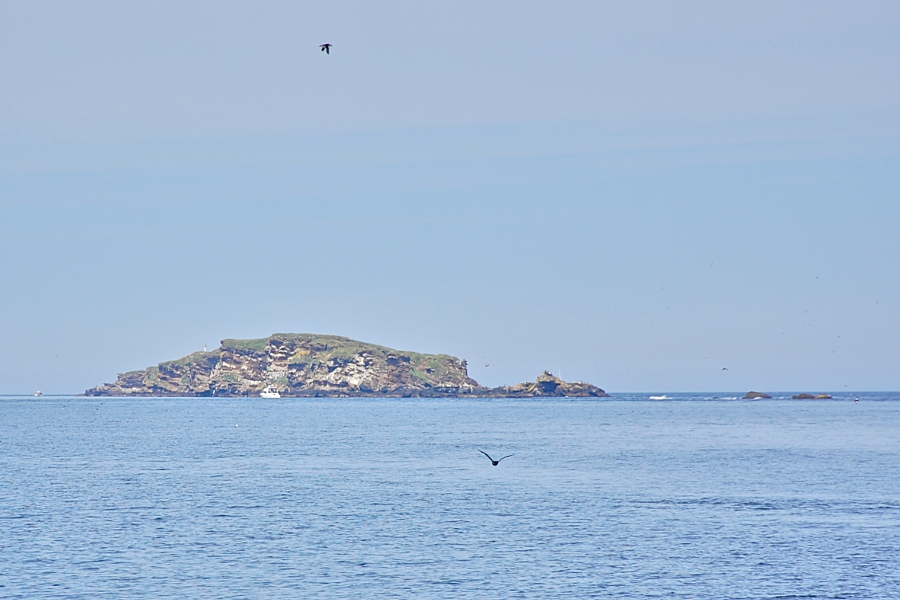 Photo #1 was taken with a telephoto setting from the southwestern end of Hertford Island; the other two are much closer views: photo #2, taken with a wide angle setting, gives another view of the "submarine", while photo #3, taken with a telephoto setting, is a close-up of its "conning tower" seen from its western side, with one last look at nature's inuksuk to the left. The differences in perspective of the top and the two bottom shots are again very striking—the "conning tower" isn't even a distinct structure in photo #1, while the protruding rock at the tip looks very different in photos #1 and #2!
The view in photo #1 is from a sufficient distance and far enough to the west that one is able to see the entire length of Ciboux Island, from its north­eastern tip at the far left to its southwestern tip in the centre. One can even make out the light towards the northeastern end of the island. Two new boats are now on the scene; the one at the far left I take to be another tour boat, while only the tower of a boat under power can be seen just to the right of the protruding rock at the southwestern tip. The boat in the centre has been seen previously; it was ap­par­ent­ly supporting some divers in the water.
Photo #2, like photo #1, shows the entire length of Ciboux Island, but the view is severely distorted, as the nearer "submarine" is way out of proportion to the island's actual length. It also shows our wake in the generally placid waters on the east side of the island. As can be seen photo #1, the waves were still rolling in pretty heavily from the Atlantic on the eastern side. What a pleas­ure it was not to be con­stant­ly worrying about one's balance and being able to concentrate on the sta­bi­li­ty of the camera!
I am not certain of the identity of the black bird low to the water in photo #1; it might be a cormorant.
These views are the last close-ups of the trip to Ciboux Island, as the tour boat has now entered the waters off Hertford Island, whose western shores will now come into view.