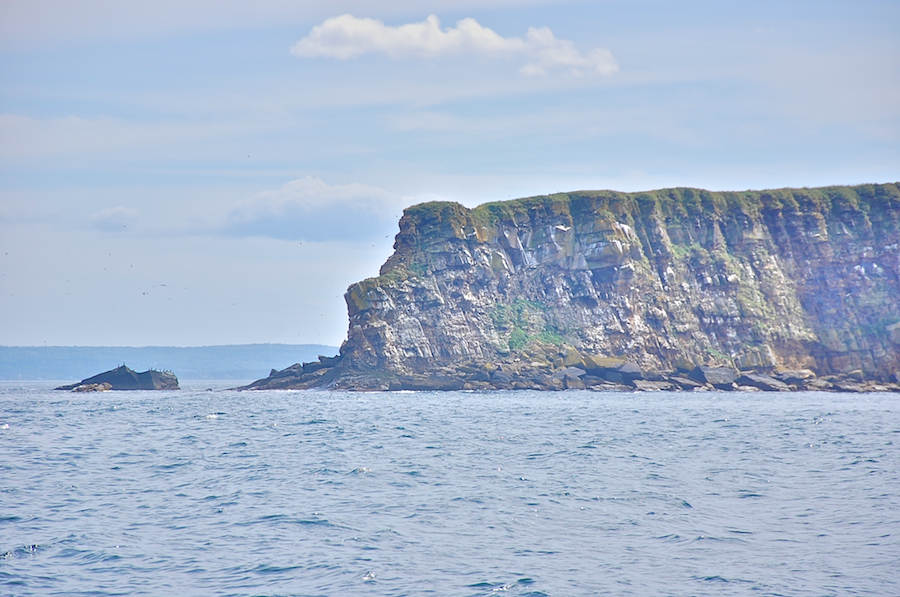 This page presents two different views of the northeastern end of Hertford Island, one from northwest of the end and one from part way south along its western shores. The salient difference, at least to my eyes, is the predominance along the western side of rock and sheer rock faces contrasting sharply with the eastern side's cloak of green atop and along the sides of the island.
In photos #1 and #3, the huge rocks that line the western shore must surely attest to a cliff that has been eaten away over the years. Photo #3 shows most clearly a very unstable situation; how long before the overhangs will come crashing down to join the other rocks at the edge of the water?
You may recall the very interesting head shape at this end of Hertford Island seen passing by on the way north: rather different al­together from this side! Also, the emphatic tilt of the rocks below the head shape is greatly attenuated here. As photo #2 shows, however, the sharpness of the rocks remains. This close-up also reveals a stand of flowers in bloom, daisies I'd guess from the original, spread out across the far right of the photo; with so little good soil here, one wonders how it's possible for flowers to thrive! Yet green vegetation has some­how gained a foot­hold all along this rocky shelf. Could this possibly be one of the beneficial effects of the guano spat­tered on these rocks?
The cormorants stand out on top of the rocky islet at the left of photo #1 and plenty of birds are in the air in both photos #1 and #2; I can make out a couple of gulls in the original using mag­ni­fi­ca­tion, but most of the others are not sharp enough to say for sure. In photo #3, two cor­mo­rants are sitting on the rock just above water at the far left, while there are herring gulls all along the cliffs, several at water level and a few up high in the cliff face; sadly, they're not much more than white dots in this com­pressed ver­sion.