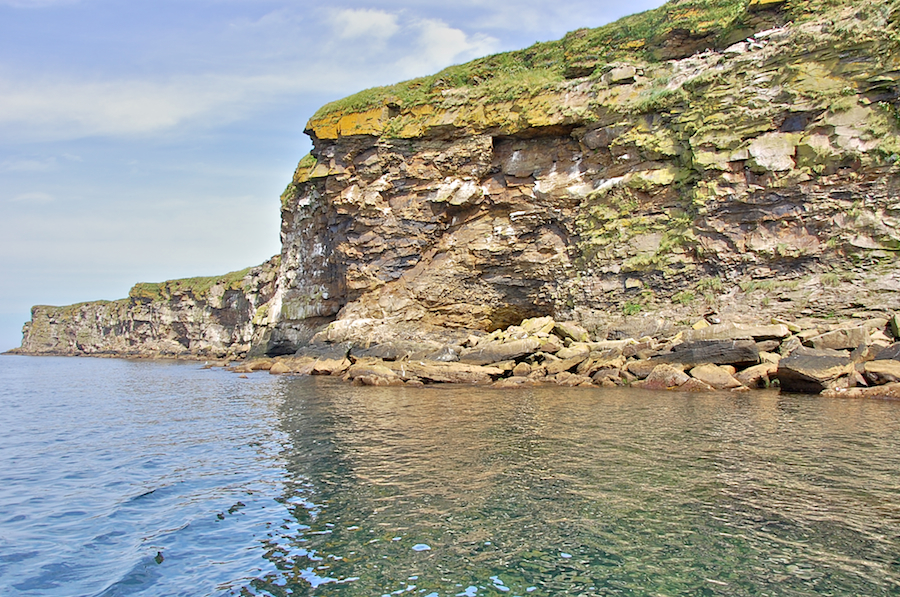 Photo #1 shows the western shores of Hertford Island, looking to the northeast from the middle of the island. How like the outer defences of a French château the walls at the far left look! (Though, admittedly, if they were, they'd be in need of repair!) It's not at all hard to imagine soldiers patrolling on the "ramparts" at the top!
The cave just right of centre in photo #1 has a lovely rounded arch form that would have done the Romans proud. The lichen-covered rocks at the top are pro­truding dan­ger­ous­ly out from the shore; at some point in the not too distant future, that whole cliff face is likely to come tumbling down.
Photo #2 was taken from somewhat further north and shows the cave seen about a third of the way in from the left edge of photo #1. Even in this compressed version, it is fairly easy to spot birds all over photo #2. I don't know what the two largish black birds are at the top of the cliffs left of centre, one stand­ing and the other sitting; what looks like a long goose's neck appears just to the left of the standing bird. Herring gulls are everywhere, along the rocks just above the water, in nooks and crannies at many points along the cliff face, one in the air under the protruding rocks on which the black birds are found, and one sitting in the grassy area at the left of the photo. And, of course, two bald eagles are skulking inside the cave—only their heads are easy can be made out in this version. I didn't spot any puffins here. Flowers, again daisies, I think, are in bloom all across the grassy area.