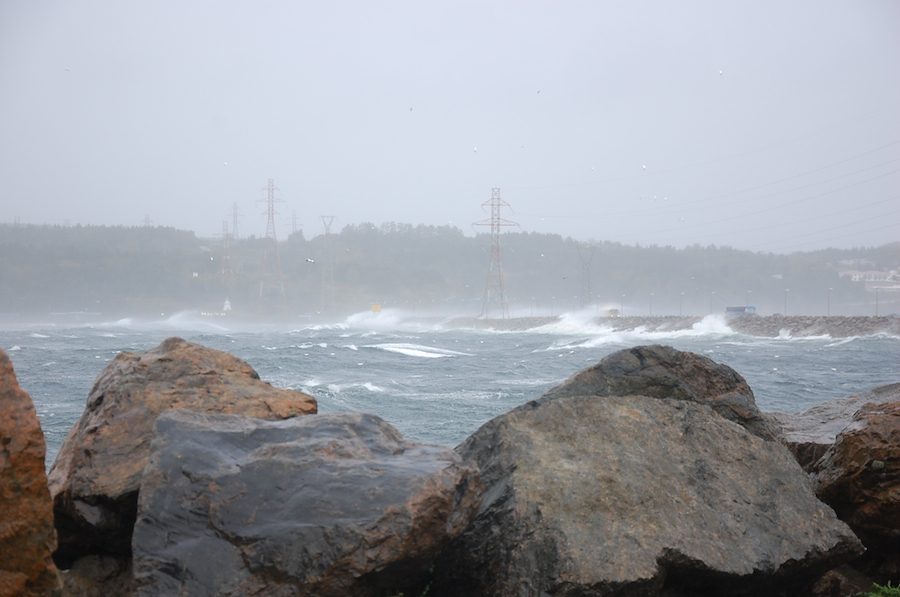 I originally intended to leave for this year's Celtic Colours International Festival, its fifteenth edition, on Thursday, arriving on Friday evening for opening day. However, the weather forecast available early in the week indicated that Thursday and Friday were to be mostly sunny days, so I moved up my departure date to Tuesday. That put me right in time for an adventurous drive across the Canso Causeway Wednesday afternoon.
The trip from New Jersey was under mostly cloudy skies, with some bright sunny breaks here and there, fog in New Hampshire, and heavy rain along the Maine coast. I found nice colours already in eastern Maine, but no sun to make them really shine. After spending the night in Bangor, I drove on, finding more fine colours in Maine (once it got light enough to see them), eastern New Brunswick, and mainland Nova Scotia, but not more than 20% turned. At Sussex, I ran into the first rain of the day, starting rather light but becoming heavy at Moncton. The closer I got to Cape Breton, the harder the wind gusts became, frequently pushing the car around on the road.
On my way down into Aulds Cove, I had noticed some pretty amazing wave action in the Strait of Canso, propelled by strong winds made even stronger by the funnelling action of the strait, so I stopped for photographs beside the weigh station at the start of the Canso Causeway. Photo #1 shows some pretty decent waves hitting the causeway all along its course — use the height of the street lights and of the pylons as a guide to the heights involved in these photos. I took several more photos there, one of which is the sequence of three photos which appear below, each taken one second apart, showing what happened to one of the larger waves, which were slamming into the causeway every thirty seconds or so. Photo #2 shows a wave crashing into the causeway and rising 10 m (30 ft) or more into the air; photo #3 shows the wind grabbing hold of it and carrying it up even higher into the air (halfway up the pylon!) and pushing it directly over the causeway; photo #4 shows it coming down like a water bomb on the roadway below, joined by the water from below that had made it over the walls of the causeway.
I took these photos quite calmly and then, after watching the action for a few more minutes but without really understanding what I was witnessing, started across the causeway. Even though I was on the lee side of the road, as I crossed, I discovered that the roadway was littered with gravel and not a few rocks thrown up by the water; I had to cross puddles as deep as 30 cm (1 ft) at various points; but each of the four water bombs that hit me, which forced everyone to drive blind for several seconds at a time, were by far the scariest aspect of the trip across: at that point, traffic was crossing in both directions and it was both heavy and, fortunately, moving slowly, but cars in both lanes found it difficult to see well enough to stay in lane. The Canso Causeway measures 1385 m (4544 ft) across¹; although it took me only two minutes to drive that distance, it felt like much, much further! My adrenalin production was in very good form as I reached the safety of Cape Breton Island! Fortunately, I suffered no damage either to myself or to my car (except for some salt deposited on the windshield, windows, and mirrors, which has proven very resistant to my efforts to remove it).
Ten minutes after I crossed, the causeway was closed to all traffic; it reöpened an hour later with escorted traffic in one direction only, considerably lessening the danger of driving blind (and allowing all traffic to use the minimal protection the lee-side lane offered). I'm not sure what I would do should I encounter similar conditions there again, though I do appreciate, now, how really unthinking I was to have blithely set out across the causeway under such conditions.
But, the final Wednesday cèilidh of the year was on at 19h at the Celtic Music Interpretive Centre in Judique, and I really wanted to be there. Fiddlers Kinnon Beaton, Shelly Campbell, Kenneth MacKenzie (also playing highland bagpipes), and Mike Hall were on stage all at once and singly, alternating with Betty Lou Beaton and Allan Dewar on piano, and often with Cheryl Smith on snare drums. This wasn't a formal concert — just musicians trading tunes back and forth in a house party atmosphere with a couple of square sets and some fine stepdancing thrown in. It was an evening of Cape Breton music at its very best and, in spite of the harrowing Causeway transit, a wonderful start to my fifth Cape Breton trip of this year!
---
¹ According to this Wikipedia article.↩