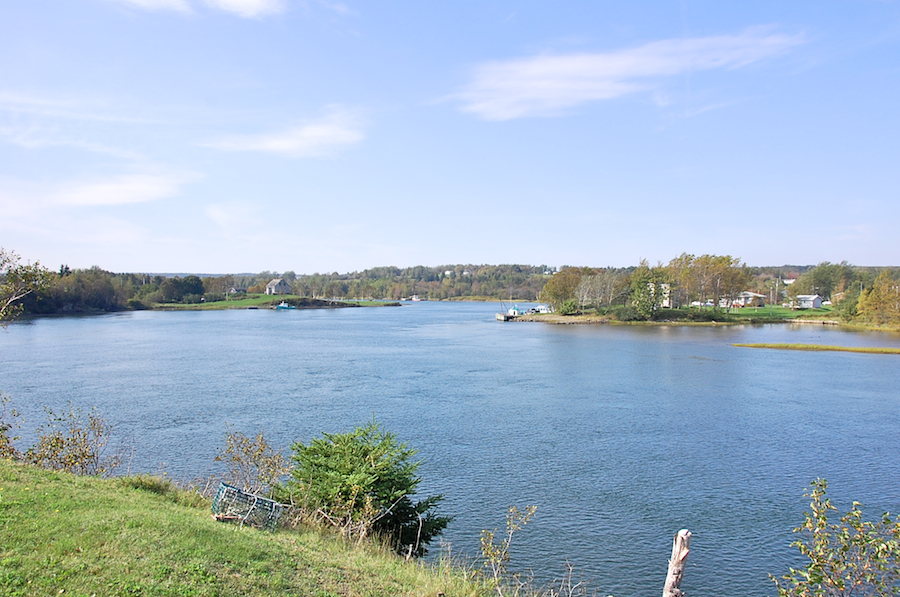 St Anns Church is 3.2 km (2.0 mi) south of the end of the road in Alder Point Harbour; the bulk of the community of Alder Point is located in the area near the church. The views in these two photos were taken from across the road from the church on the banks of the Little Bras d'Or Channel. The presence of fishing boats all along these shores attests to the continued importance of this industry to the economic life of this community.
The view in photo #1 looks upstream; the "elbow" in its course makes the Little Bras d'Or Channel look wider than it is and it becomes narrower yet beyond the bend in the centre of the photo. Only a very slight change has occurred in the foliage here; the grass is green and one has to look closely at the trees to see that they are not sporting their pristine summer greens.
In photo #2, which looks downstream, the trees at the left are showing a bit more colour, but it is the yellowed grass banks that line the channel close to the water that show most clearly that this is not high summer.
What a beautiful, tranquil place this is! I stayed for several minutes, just soaking in its homey aura. Alas, it was too soon time to begin the drive back to the Gaelic College at St Anns for the afternoon concert of the Cape Breton Fiddlers' Association, which proved to be fabulous. A great home-made traditional Thanksgiving Day dinner followed (I can still taste that fantastic dressing!), shared in the company of friends who had also come for the concert. Next it was on to Whycocomagh for the evening concert there. Finally, it was back into the hills for the square dance at Glencoe Mills with Shelly Campbell and Allan Dewar (joined later in the evening by Troy MacGillivray (on banjo!) and Louis-Charles Vigneau on guitar), whose music was just out of this world! I hadn't seen so many folks at a Glencoe Mills dance in several years — there was a group of 35 there from Kitchener and lots and lots of locals. What a dance! And what a great day!