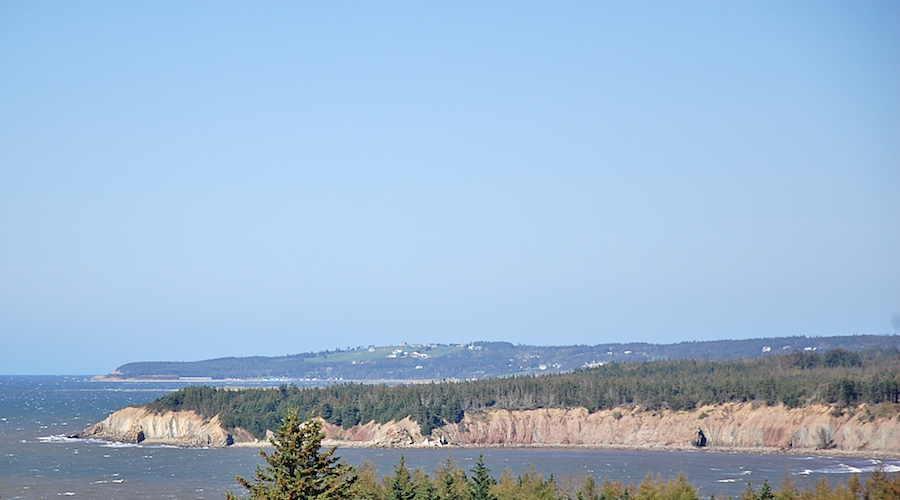 Thanksgiving Day proved to be even nicer than the two previous days, with a stiff breeze (notice the white caps in the photos) and considerably less haze. After a lunchtime cèilidh at the Celtic Music Interpretive Centre with a superb lunch (the food that comes out of that little kitchen is simply amazing) and great tunes by Mike Hall, Allan Dewar, Shelly Campbell, Stan Chapman, and Betty Lou Beaton, I drove first to Baxters Cove and then back along the Lower Shore Road for photos; the two on this page were taken from the Lower Shore Road about 800 m (0.5 mi) before its junction with the Shore Road at Little Judique Harbour.
Photo #1 looks towards Black Point and Port Hood in the far distance. The buildings at Murphys Pond, where most of Port Hood's fishing fleet anchors, can be seen inland of Black Point at the water level. The houses high above on Marble Hill are easily seen; those along the shore of Port Hood are less easy to make out. In the foreground, one sees the cliffs running out to MacNeil Point that form the northern shore of the harbour at Little Judique, protecting it from winds to the north and northeast.
Photo #2 looks across Port Hood Harbour to Port Hood Island, which here looks like a sprawling triangle. Parks Point, the southern tip of the island, is in the centre of the photo; the western coast runs out to the left (its western end at Bald Head is obscured in this view by the trees) and the eastern coast runs out to Smith Point at the far right of the photo. The once year-round community on Port Hood Island, spread around Smith Cove at the right of the photo, has become a place of summer homes.
Then it was back to the Celtic Music Interpretive Centre for a pre-concert supper with music by Mike Hall and Allan Dewar; I sat with friends, including Allan's mother, Marion (Jerry Holland's long-time accompanist), and sister, Jean, and had a great visit as we enjoyed the fine tunes and food. The Dan R. MacDonald tribute concert in Judique, organized by John Donald Cameron, featured fantastic music by John Donald, Doug MacPhee, Dave MacIsaac, Winnie and Pat Chafe, Barbara MacDonald Magone, Jackie Dunn-MacIsaac, Troy MacGillivray, Louis-Charles Vigneau, and Karen and Joey Beaton; it included some fine step-dancing. Then, it was off to Brook Village for a great dance with dual pianos featuring Kathleen LeBlanc-Poirier and Kinnon, Betty Lou, and Andrea Beaton, with a guest appearance by Barbara MacDonald Magone. Lots of fine music and fine dancers—a fitting end to a fine Thanksgiving Day filled with the very best of music and friends!