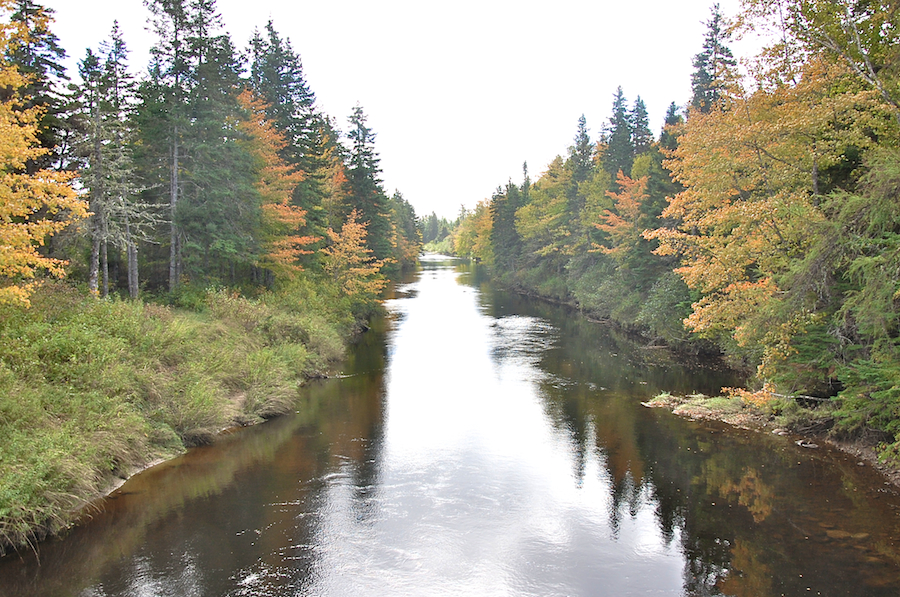 Tuesday was another fine day, though with rather more clouds in the morning that mostly cleared later in the afternoon. The annual Sounds by the Sea afternoon show in Lower L'Ardoise, a wonderful combination of craft show, local music, and a fabulous lobster dinner, meant I got to drive over there.
Of course, on the way, I took the opportunity to explore, this time some of the back country north of Port Hawkesbury I had first seen at the end of August this year, locating a church I had photographed from afar without having any idea where it was. That exploration took me this day along Riverside Road, which runs to the east of River Inhabitants from Cleveland in the south to Kingsville in the north, and out to the western end of Cenotaph Road, where I immediately recognized the Long Stretch and Glenora Roads I had first travelled at the end of August. I stopped once again at the bridge over the peaceful River Inhabitants, where the photos on this page were taken. This important river rises on McIntyres Mountain and flows south and a bit east into Chedabucto Bay just east of Port Malcolm, widening considerably as it goes south. At MacLeods Bridge in Cleveland, it is already a wide river; the Highway 104 bridge, between exits 44 and 45, that crosses it above its mouth is even more impressive. I have glimpsed this beautiful river at a few other points along its course, but so far I have found very few vantage points with unspoiled views, making it very hard to photograph at most of the points where I have tried,
This was the first time this year I had seen real fall colours on Cape Breton Island. They were much further along in this area this day than anywhere else in Cape Breton I had been so far, though only still in the beginning stages. In photo #1, those colours can be seen in the trees along this downstream view from the bridge. The white clouds in the sky above were not monolithic, though they seem to be; notice the reflected gaps in the clouds in the waters of the foreground.
[continued below]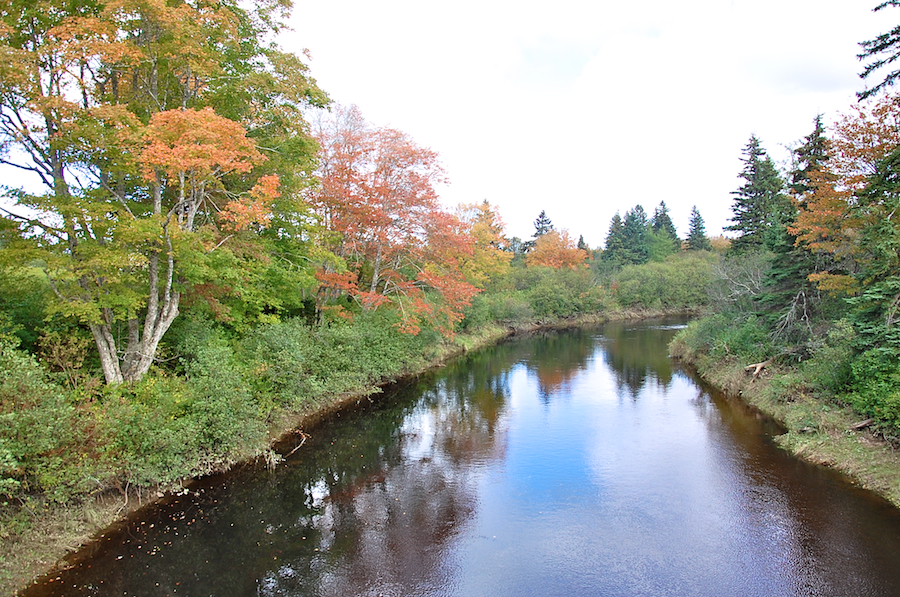 Photo #2 looks upstream from the bridge; again, note the big spot of reflected blue sky in the centre of the photo. The trees here are decidedly greener than those downstream, with only a few showing changes, though the better light angle makes them stand out more sharply than those in the top photo. Photo #3 is a detail of the tree leaves in the tree at the left of photo #2; this close-up view shows that there is still a lot of green remaining in these leaves — notice particularly those which are still green in the middle but edged with red. The annual parade of colours has clearly begun, but it is also clearly only at its beginning.