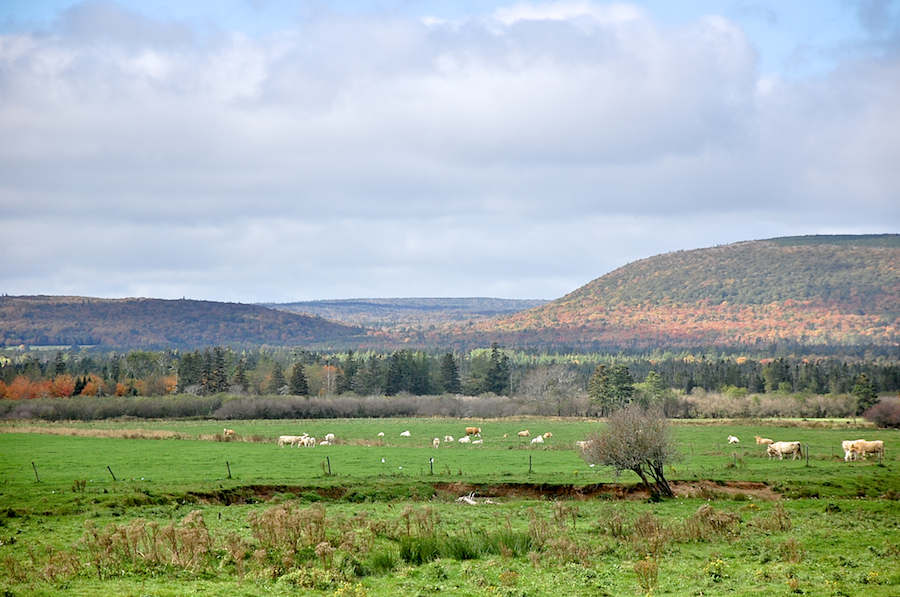 After leaving the River Inhabitants bridge, I drove back on Cenotaph Road to Riverside Road and decided to continue north on Riverside Road; I wasn't sure whether I had been here or not at some time in the past, but the peaceful farming countryside I saw east of River Inhabitants didn't ring any bells in my memory as I drove through it. I know I have long been trying to get a good photo of McIntyres Mountain and my previous attempts from the Trans-Canada Highway (Highway 105) at Kingsville left a good deal to be desired. So, when I came across this fine view across the green fields, I immediately stopped for photos.
Photo #1 provides a good view of the beautiful Big Ridge, at the base of which the Trans-Canada Highway runs from Blues Mills in the north to Lexington in the south. Four individually named mountains (McIntyres Mountain, Cameron Mountain, River Denys Mountain, and Skye Mountain, from south to north) are the edges of the plateau, formerly inhabited but now mostly deserted, to the north and west of the highway; the Bornish Hills Nature Reserve also sits along this ridge northwest of Melford. In photo #1, McIntyres Mountain is at the right; the other prominences are unnamed, but part of the Big Ridge.
The fall colours on the side of McIntyres Mountain are already quite outstanding, perhaps made more remarkable by the sun that was shining on them through the breaks in the clouds (some blue sky can be seen here too), which, alas, did not reach closer to the lovely green fields in the foreground, clearly untouched by frost as yet. River Inhabitants is out there, somewhere, perhaps along the line of bushes in the middle ground, but hidden from sight here. In any case, this is a beautiful scene, very different in nature from the Little Bras d'Or Channel across from St Anns Church in Alder Point, yet every bit as beautiful and tranquil.
Photo #2 is a view of most of McIntyres Mountain. The communications tower at its top can be seen about a third of the way in from the right of the photo. Except for those at the base of the mountain, most of the trees on its side appear to be still green (there's some ambiguity in the clouded-over areas), though some very tentative changes can be seen in the sunny areas at the right. What a glorious view this must be when the fall colours are at their peak!