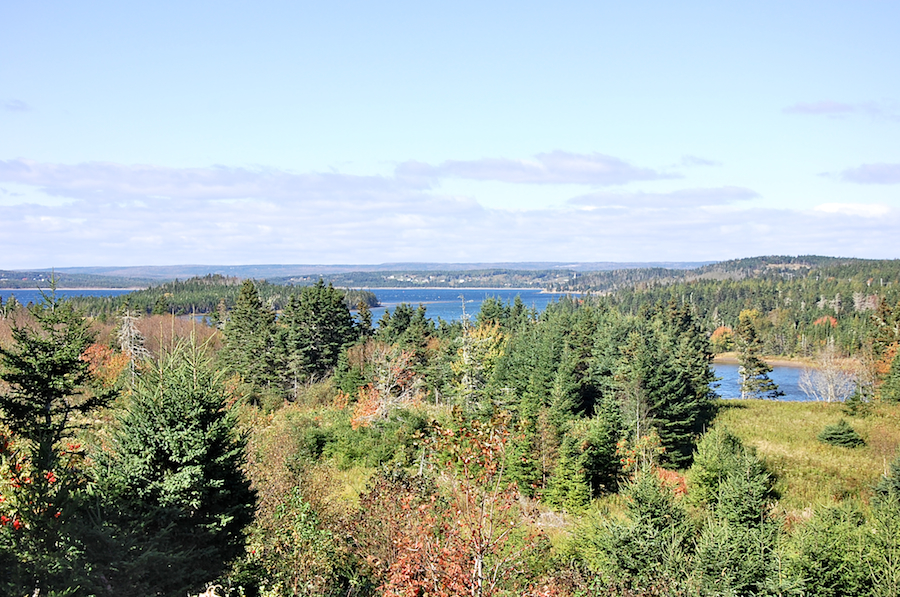 I'm not sure why I had never before ventured down the Grande-Grève Road, but I hadn't. The two photos from Grande-Grève in my 2008 photo essay East Coast — Isle Madame to Fourchu that appear here and here were taken from Highway 247, though I did take note in that essay of the existence of Grande-Grève Road, a mention of which I discovered after that trip while writing the essay. In any case, this day I saw the sign (which might have been recently erected as I don't remember having seen it before, though my memory is notoriously faulty about such things) and, having a few extra minutes before the start of the afternoon show, I decided to see what was there.
No sooner had I started down the road than I discovered the magnificent view captured in photo #1 of St Peter's¹ and St Peters Bay, with South Mountain looming in the far distance above the ridge immediately behind the village. Behind me, two houses enjoy this great scenery, improved this day by receding clouds and a blue sky above the waters of St Peters Bay, making it picture postcard perfect! Photo #2 provides more detail of the village. The hill to the right of the church steeple is Mount Granville, site of the beautiful Battery Park; the lighthouse at Jerome Point, the point within Battery Park that descends sharply into St Peters Bay from Mount Granville, is a wee dot of white enmeshed in a group of trees at the point—a better photo of the lighthouse can be found here (which incorrectly states that this lighthouse is not now standing). St Peters Canal and the National Historic Site lie behind Mount Granville in this view; they are not visible here. In discussing the Little Bras d'Or Channel, I mentioned that it was one of the two natural outlets of the Bras d'Or Lakes system; St Peters Canal, still operational, is a third outlet, but it is not natural, having been dug through the side of Mount Granville between 1854 and 1869. For more information about St Peters Canal, see this description in the a­fore­men­tioned photo essay.
Traces of fall colours can be seen in photos #1 and #2, but they are still very muted and much less in evidence than at Princeville. Just below the level of the road where I took these photos, I found the attractive mountain ash tree shown in photo #3, beautifully arrayed in its full fall glory of red and green.
---
¹ The Geographic Board of Canada adopted in 1898 a rule which stated that the "possessive form of [place] names should be avoided whenever it could be done without destroying the euphony of a name or changing its descriptive application. The rule added that, if the possessive were retained, the apostrophe should be dropped." [¶] "[…] in the 1970s, the rule was amended in Canada to permit the apostrophe where it was well established and in current use. [¶] There are several names in Canada with the apostrophe. Examples are St. John's in Newfoundland, St. Peter's in Nova Scotia, Campbell's Bay in Québec, and Lion's Head in Ontario. These forms are in keeping with the principle of geographical naming that names established in the statutes by other authorities must be accepted without change." [p. 70 of Alan Rayburn's Naming Canada: Stories about Canadian Place Names, University of Toronto Press Incorporated, Toronto, revised and expanded edition of 2001, ISBN 0-8020-4725-4, courtesy of Google Books] Thus, St Peter's has an officially sanctioned apostrophe and it is given one on the topographical maps and in The Nova Scotia Atlas; however, derived place names, such as St Peters Bay, St Peters Inlet, and St Peters Canal National Historic Site do not have an apostrophe in these sources. (Having said that, the village's web site uses the apostrophe for such derived names as well.) As to the period after St, which some references use, I follow the practice of the topographical maps and The Nova Scotia Atlas, which omit it in all place names. By way of contrast to St Peter's, note that St Anns officially has no apostrophe (nor an 'e'–though both are sometimes seen in local spellings.)↩