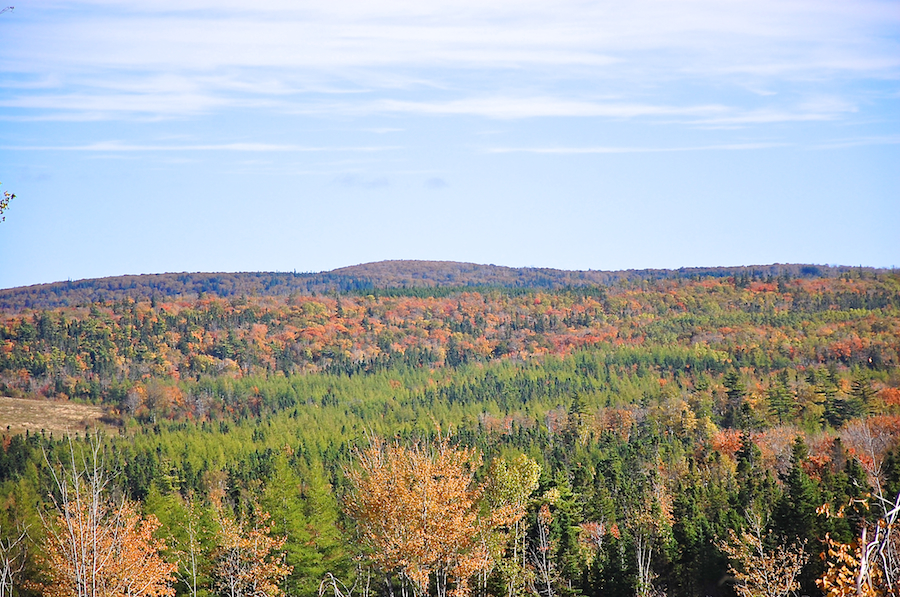 After leaving Long John's Bridge, I drove up along the Glencoe Road to the unnamed prominence I have dubbed "Mount Glencoe" and down the other side, moving very slowly as I savoured the views during the descent. The colours there were starting, but not much more. When I arrived at the newly clear-cut area a short distance above the Glencoe Mills Parish Hall, however, I encountered the view in photo #1 (looking northeast to the Rosedale Ridge), where the colours are already well along. Again, a very significant amount of change in a very short time!
Photo #2 looks a bit south of east from the same spot, showing the farm on the MacKinnon Road and the Churchview Road summit in the middle left (where the stand of trees is). The colours in the foreground line the MacKinnon Road,¹ so I determined I would detour out that way to get a better look at the state of the colours.
[continued below]
---
¹ As best as I can determine, the road in front of the Glencoe Mills Parish Hall is officially the Upper Glencoe Road, just as it is in front of the parish church on the other side of the Glencoe Road, even though the signage has an arrow pointing to the MacKinnon Road and that is the name (usually as MacKinnons Road) that I hear locally for the road from the parish hall to the Whycocomagh Road near Dunakin. The road forks 1.3 km (0.8 mi) from the parish hall, with the Upper Glencoe Road continuing to the south and the MacKinnon Road to the southeast, east, and finally northeast.↩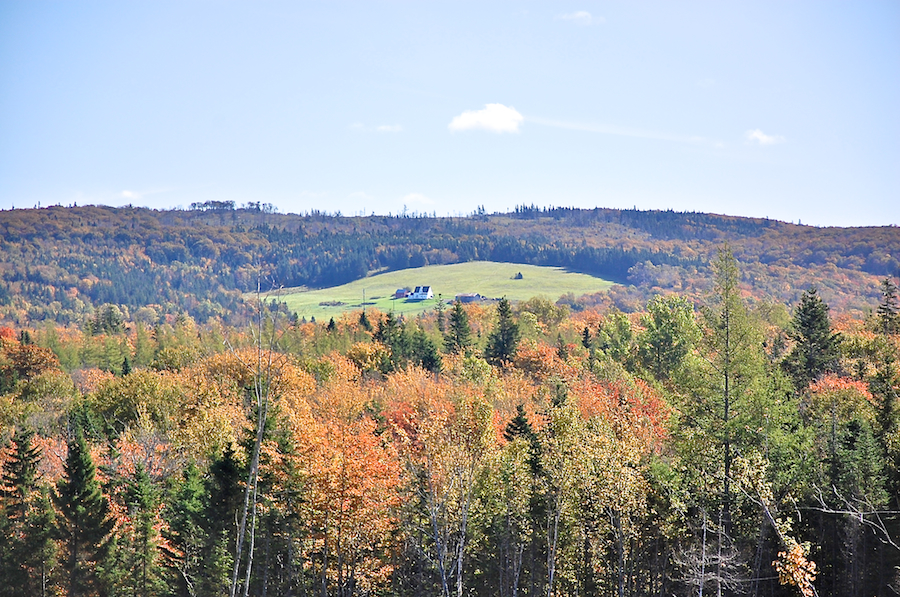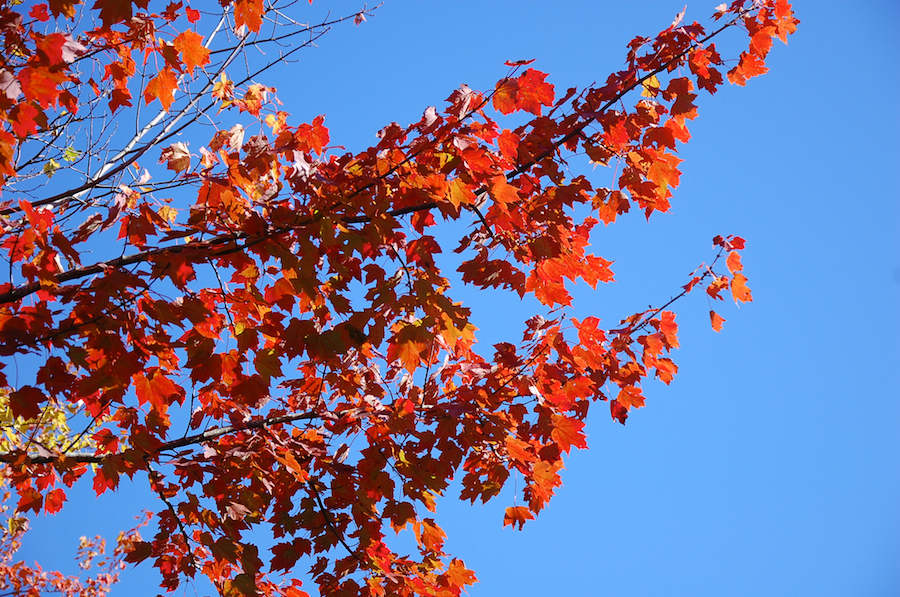 After coming around the bend that turns the MacKinnon Road to the east, I came upon the stand of trees shown in photo #4, where a glorious brilliant red was showing above the road. I stopped to take its photo, which revealed its even more spectacular hue when viewed against the clear blue sky above, as seen in photo #3. As photo #4 shows, this tree was hardly monolithic in its red, with only a few branches displaying the bright colours, but it was glory enough! The adjacent greens testify that the change is very recent.
[continued below]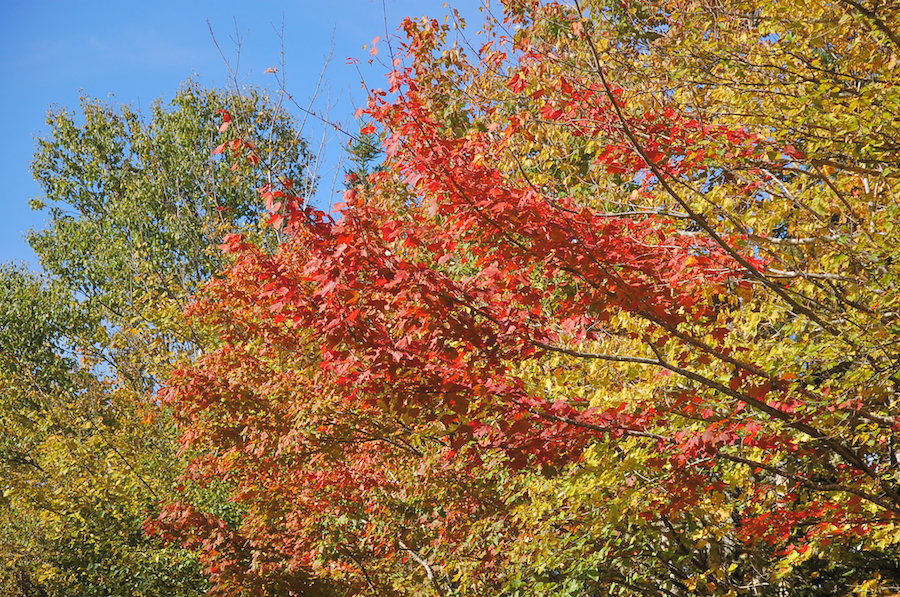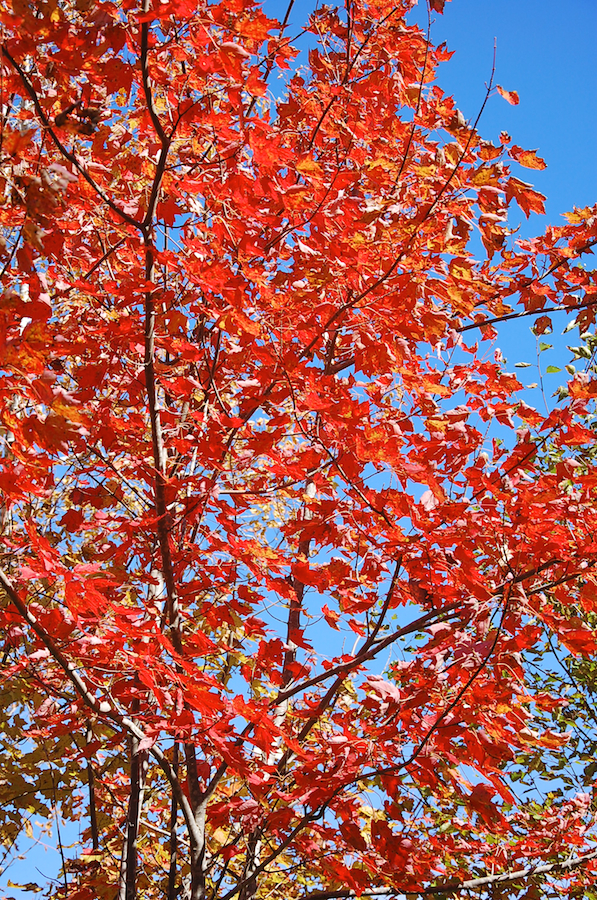 A short distance before reaching the driveway into the farm, I came upon yet another glorious red tree, seen in photo #5, positively brilliant in the morning sun. I could not resist stopping to record its beauty too: I am a devotee of red trees! Yet, time was passing and I needed to be in Cape North by the evening, so I continued on down the MacKinnon Road, enjoying its beauties as I drove slowly along (the MacKinnon Road is not built for speed in any case), but not stopping for further photos, though I could easily have done so. At the end of the MacKinnon Road, I turned right onto the Whycocomagh Road and continued towards Whycocomagh.