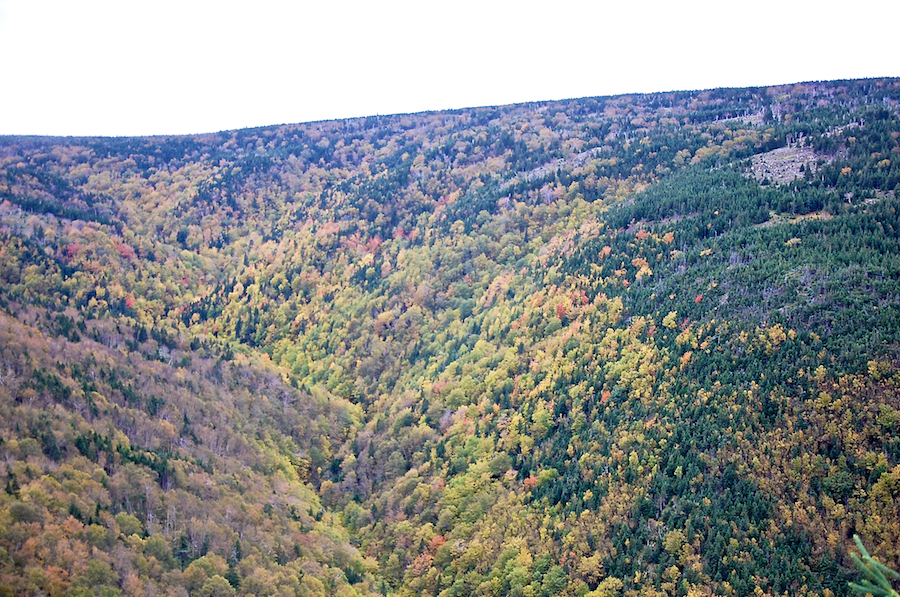 It was 15h52 when I arrived at the Cabot Trail in Sunrise and the sun had almost completely given up trying to pierce through the mostly overcast skies above. It was time to head south for the evening's concert in Terre-Noire. Because of the generally poor light and because, in most places, the leaves were still predominantly green, I didn't stop for long at any of the lovely look-offs along the way.
There are two look-offs on the Cabot Trail which offer views of the Fishing Cove River Valley, south of the ascent of MacKenzies Mountain; the views on this page were taken from the more southerly, which offers fine views of the valley down which the longer but gentler trail to Fishing Cove proceeds. On a lovely October day in 2007, I hiked the shorter but steeper trail, which starts further north before the more northerly look-off; I have some fine photos and some very fond memories of that hike. Whichever route you choose, you will definitely see some gorgeous terrain and marvellous views.
Photo #1 shows the sinuous course of the Fishing Cove River as it descends from the Cape Breton Highlands Plateau down to the coast at Fishing Cove, where it enters the Gulf of St Lawrence. It also shows the very mixed forest in this area, with evergreens everywhere, but mostly deciduous trees in the protected valley. In this wide-angled view from the look-off, it is clear that things have started to change, but the impression is of yellows and occasional reds here and there against a background of mostly greens. I never did get back up here later, but I'd fully expect this view to have been dazzling in a couple of weeks, as it has been other years when I have passed by.
Photo #2 is a telephoto view of the waterfalls on the Fishing Cove River that are visible from this look-off. According to the topographical map, the trail is to the left (east) of the falls, though I can not make it out here. This close-up view brings some beautiful reds into sharp focus as well as the yellows and many shades of greens. Alas, the bushes in the foreground, necessarily blurry in order to sharply capture the view at a distance, partially block the waterfall and the trees beside it.
[continued below]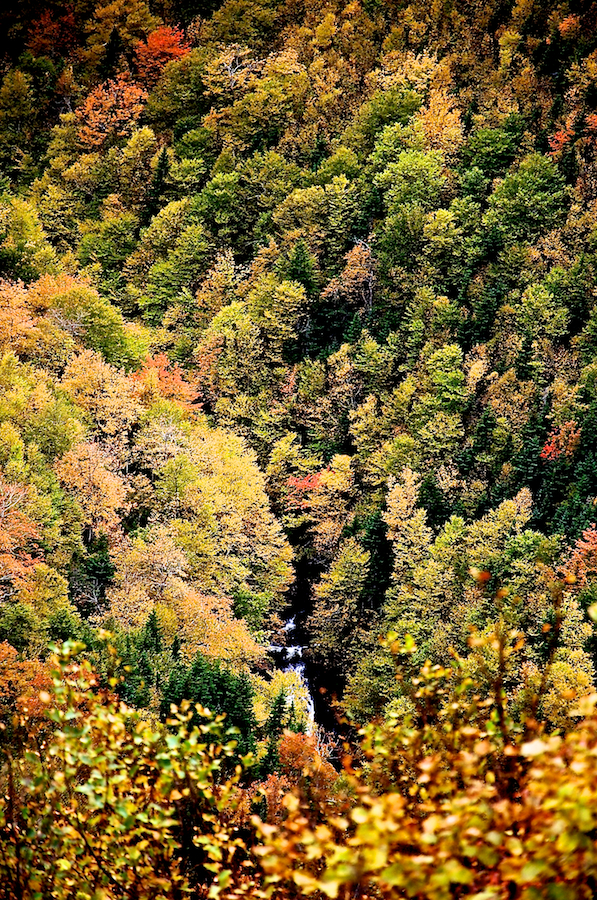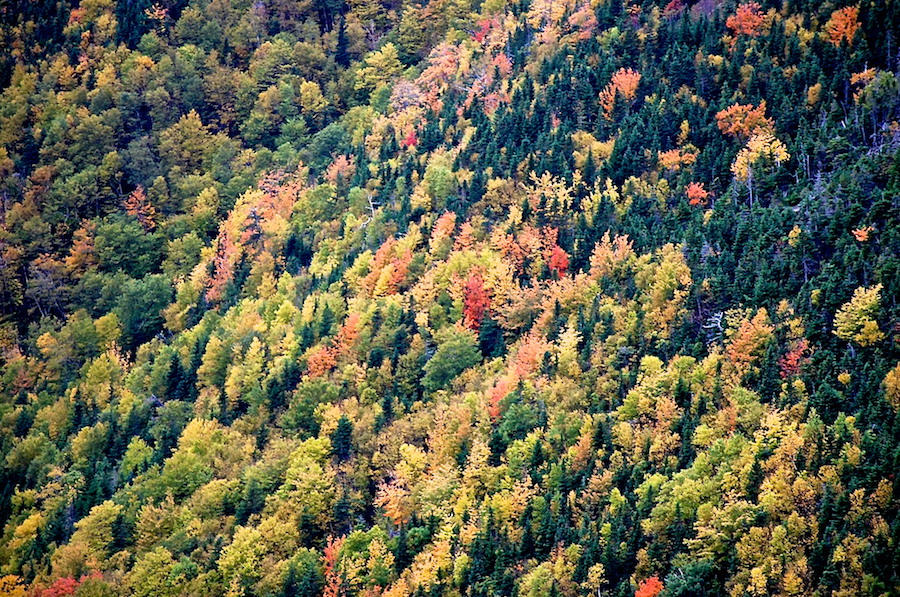 In photo #3, the telephoto focus is on the hillside where a number of red trees stand out against the oranges, yellows, and greens. How even more stunning they would be were the sun out in force!